Hey, I wanted to what option should I select while applying for the rights share. Bought additional RE apart from those that were alloted.
means do the IPO with your bank right. 9000*55
I have 1000 Aditya birla fashion RE (16/7/2020) now but still i can't see my share in holding section.
You will have to use those RE's to apply for Aditya Birla Fashion's rights shares.
You have 1000 RE's so you can apply for 1000 shares, on application you will have to pay Rs. 55 per share.
Shares you have applied for will list as Partly Paid shares on 7th August, you will be able to see them in Holdings after listening.
The process on how to apply has been explained above.
How to apply for the Aditya Birla Fashions rights issue?

Once you either receive the REs from the company or purchase it from the market, you will need to apply for the rights shares using Netbanking ASBA. You can check the process in this post .

You can verify your entitlement on the website of the Registrar & Transfer Agent . You will need to enter your demat account's Beneficiary Owner ID which is a 16-digit number. You can read this FAQ on the RTA's website for details.

You can also apply for right on the RTAs website - https://linkintime.co.in/RightIssues/index.html .
Hello,
I do not know about Right Issue and its process. I have 626 ABFRL-RE (Purchased from Zerodha), and 40 ABFRL.
Is this the link where I have to do payment for a claim,
https://linkintime.co.in/RightIssues/index.html
Am I added the correct details,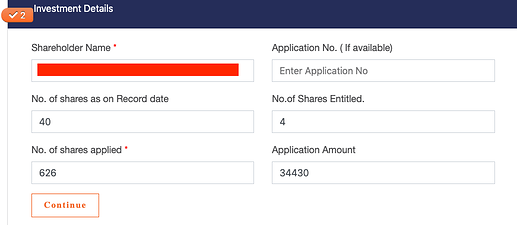 What will happen after payment? How many shares will I get and when? Is it ABFRL?
Please guide.
I have purchased 390 Aditya Birla share but now it's not in my holding, so what to do now if I don't want to apply for the right issue my invested amount will lost?
Trading window for ABFRL RE's ended yesterday, so RE's won't show up in your Kite holdings, though they will remain in your Demat account until issue period ends on 22nd July after that they will vanish from your Demat account as well.
If you don't apply for rights shares, you will lose entire premium paid for buying RE's.
@ShubhS9, you response will help me to proceed further. Can you?
Everything looks alright.
Payment will be blocked in your bank account, upon allotment this will be debited from your bank account.
You have applied for 626 shares, so you should get allotment for that many shares.
Tentative date of crediting these shares to your Demat account is 4th August and listing date 7th August.
Does 626 include the 4 you got from ABFRL?
No. I have purchased it recently, hardly a week.
Sir I have zeroda account and its linked to pnb account and I have these shares in that account , now when I go to payment section while applying for Aditya birla fasion- right issue , pnb bank is not listed there for payment, what should I do now
Hi,
I have placed order to redeem ABFRL RE shares on the linkintime.co.in . I have received order ID after making the payment but there is no mail or any other intimation. Is there a way by which we can know the status of the order. The RE shares have dissapered from my demat though.
You need to apply separately for the 626 RE you have purchased from zerodha by selecting the renouncee option and the 4 RE which you received from the company you need to select the shareholder option.
Hi Team, Need help on the RE.
I have wrongly purchased the Aditya Birla RE and unable to see that in Kite now. Is there any way to get the same amount back .?
RE's won't show in Kite Holding anymore as Trading Window has closed though they are still in your Demat account and will remain there until 22nd July, after that RE's will vanish from demat as well. There is no way for you to get your money back unless you apply for rights shares.
@ShubhS9 hii i had 48 Aditya Birla RE. Now since the Trading of the same is closed. Can i make the payment of Rs. 55 per share today as the issue shall close on 22nd July 2020??
Please revert on urgent basis