Hi I bought Bhel shares on price 47@1700
Please advice can hold or exit
BHEL has been in downward channel since the past three years. Well it has been in downtrend even before that…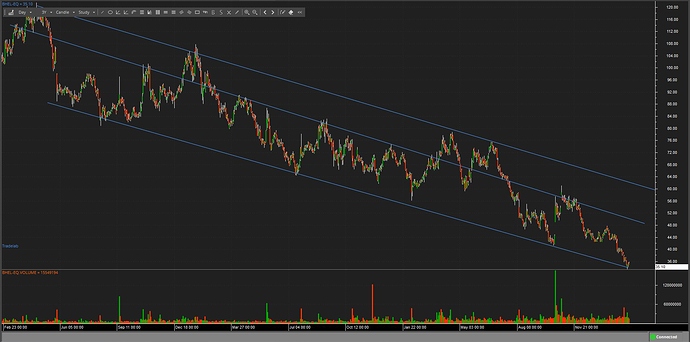 I am no expert and these are just suggestions…
If you find some better alternative or opportunity elsewhere you could book loss in Bhel and look for the other opportunity.
If Bhel breaks the channel it could go down further and you are looking at furthur loses. No one can predict but whenever Bhel has plunged it has recovered similarly for the short time at least to previous levels.
In line with the above statement, If you have more money buy some more at CMP of 35. Add more like hell if you get more below that, for every 5rs drop, It would bring down your average price and In 1-2 months the price could definitely reach around 45 and at that time you could look to book whatever little profit you could or hold for future if the chart suggest.
Please act according to you judgement. This the Share market, anything could happen and no two stock with similar fundamentals better or worse behave similarly.
I would strictly avoid averaging down, because things doesn't really work that way. Nobody knows where the stock would end up, it's always better to have a strict stop loss and cut your loss when things doesn't move as you expect.
I would also never suggest to average and my first advice was to get out but BHEL but it is not a bad stock, pretty much that lately it's fundamentals have taken a beating and as the chart suggests the fall and rise (just to the previous level is cyclic). You can pretty much see that once it had breached a level it had again retested it and even gone a little higher and then again fallen. My advise to average is just for the short time so he could get out in a little profit.