From the screen shot, it is clear that both Market Depth and Snap Quote window display Market Picture.
Snap Quote displays additional information than market depth. I have highlighted the differences in this screen shot.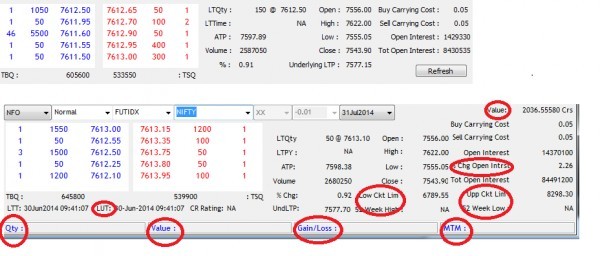 Values for Qty, Value, Gain/Loss and MTM will be displayed in case of open position.
Ajay, values under column NFO refers to what?
Saiprasad they refer to markets and segments - NFO is for NSE F&O, NSE is for NSE Cash etc.
Ajay, I was referring to numbers 1 1 3 1 1 (appearing vertically) under NFO?
They refer to number of buy orders at that price ( 5 best bids)
1 order at 7613 of total quantity 1550
1 order at 7612.55 for 50 and so on.