US Banks

Probably. Maybe this is the reason he is trying to do a stake sale. Read today that he intends to sell 5 percent of vedanta to repay debt
Hz just announced 26 inr as dividend.
May be this time hindenburg targets company in other countries, But if they again target in in india, then, the next target of hindenburg, might be group of Anil Agarwal, it's quite possible.
Controversies are always there with their business. failed delisting of VEDL (clear case of cheating with investors, thanks to LIC) , cairn tax issue, pressure on GOVT to sell stake in HINDZINC & recent selling mines of vedanta to hind zinc, protests against Tuticorin plant, wrong declaration of foxconn deal (which leads stock move), and many Controversies.
So if hindenburg targets any indian company, then Anil Agarwal group might be on top list.
second target might be hinduja group.
Third group might be TATA.
TATA group is a alternate name for trust, So I don't think that hindenburg can make any big damage to tata group. The reason behind i think tata group is that some stocks of this group has sky rocketed ( rally may be only due to operators, not beacuse of tata's). But big move in some stocks like " TATAELXSI, TTML, TATACHEM, TATAPOWER " was not expected.
kishor Biyani, anil ambani are now past, so they can't be targeted anymore.
Banks like RBL or any PSU may also be target, can't say. We need to wait till report comes. any guess friends, who will be next???
I dont think it will be from India.
So does it mean that Adani saga is now over? Hindenburg has made money whatever it intended to make from Adani shorts and they are now moving to some other company
Few more -
1.During the delisting, made a extra provision of 10,000 to 12,000 crore so that the book value of Vedanta would reduce.
2. Recently got shareholders approval to release funds from general reserve or some statutory reserve of Vedanta so that he gets access to this cash.
3. Gave loans during the pandemic period to Vedanta Resources (inter company loan)
4 The last one was trying to sell the mines to Hindustan Zinc so that Vedanta gets the entire cash and he could take the money out. Govt shut him on this.
After all this, you should see the way, he gives interview to business journalist who are senior most in the industry. Anil Singhvi of Zee was like water, flowing here and there when he was asking him questions. Wonder why they just cant him point blank that he was trying to sell the mines to HZ so that he could take the cash out.
I agree with all your points he is a Machiavellian industrialist but he has quality of taking failed business to Success. He is a self made billionaire stared from nothing(he began trading in scrap metal). Also , made many traders and investors wealth in the process.
It is Block, Jack Dorsey's venture.
I didn't knew all this in details, Thanks for adding more details & keeping us updated


point:1 reducing book value by cheating like this is very bad.( koi itna kaise gir sakta hai, ki apne hi share holder ka loss kar ke apni jeb bhare.)
point 2 & 3 i was totally unaware.
point 3: i think he is paying loan to parent co, which is in huge loss.
Addition to Point 4, recently HINDZINC issued dividend of 26/- , as a major stake holder, he/VEDL gets big cash.
Any addtional info will be helpful to all, Thanks.
I really like the way hindenberg publish the report , hope we also had some investigative journalism like this india
I hope the Reddit short squeeze team won't put an end to Hindenburg's short trading strategy this time.
Didn't get the context ? can you elaborate or point some article?
We do have something called "proxy advisory service" there is one IiAS. They were publishing reports on Vedanta and calling them out. Truly appreciate their service during the Vedanta delisting time. The sad part was the front line business channels absolutely useless.
They called out on the role of independent directors responsibility in the company. When the delisting was proposed, the board of directors, without any opinion put it to shareholders for voting. Independent directors were there to protect the interest of minority shareholders, they did nothing.
SEBI took this up and I think they have ammended the rule where independent directors should give their recommendation and not blindly send it to the shareholders for vote. They are getting paid millions but do nothing. I can understand this. If outside journalist cannot ask this fellow straight question, how do you think the directors working would question him.
What is surprising is all of the Directors at that time were renowned people, but they failed to do their fiduciary duties. Few resigned and left as well.
Yes he started off as scap dealer and he is now called billionaire. Normally a person who comes from such humble background would not have done the delisting saga when India was under fire with corona. This was not the time. Still he made use of the opportunity.
One TV expert, I dont remember who, made a comment "He should not steal from Retail investor and give charity"
One other said, this company is good for mutual fund and FII who understands how this fellow functions and not for retail investors. Unfortunately, retail investors, including the undersigned, invested going by the balance sheet and the dividend yield.
Saurabh Mukerjee once said, invest in a company where the owners would like to share their gains with others. In this case, he wanted all the gains for himself and not for retail investors.
Inspite of all his efforts, there is something called Karma in the form of LIC during delisting and Mines Ministry now.
Remembered one other things which he did.
On the final day of delisting, when data was getting collated at the exchange, he comes out and gives and interview that majority has agreed for delisting, when in fact it was not the truth. There was so much issues on that day. SEBI refused to give additional day which he requested, claiming, technical glitch on that day, then SEBI gave additional time for computation. It was then they found that few of the data submitted was not accurate or so. Later it came to light that LIC came out and said that are willing to sell at 320 when the floor price he offered was 87.50.
This did create bad press for the company and SEBI has made some changes in the way delisting is supposed to happen. The beauty is the reverse book building and price discovery process SEBI has laid out.
So Hindenburg has attacked America. Oh dear!! what will America do now?
Your hope is turning into reality , short squeeze happing . Lagata hai iss bari hindenburg lapete mein anane wala hai

let see what happens. was down -20 % but now recovered to -10%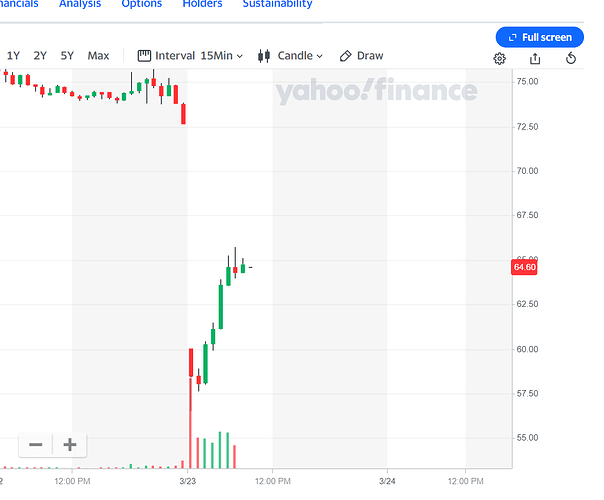 stocks falling 20% is usual in US. If it happens in India people panic.
My query, I read the report, they say they have shorted the shares. Can then get out and make money when the market fell at 20%. How does it work. When you short, do you mention a price point down below and only when market price reach that price does the transaction gets executed.