Is anyone trading live using heikin-ashi ? And is it actually working for you??
Backtested and forward tested it very well. It's terrible for entries but great indicator for exit. Switch your chart to heikin ashi after you entered a trade.
I had tried using heikin-ashi when I was new to trading. Heikin-ashi candles smoothens out the random movement of price in its candles.
I found this to be counter-intitutive for intraday trading and scalping which I was trying to master then.
Although I did find the Ema with heikin Ashi combination to work well on higher time frames.
Ya as the price is averaged out at entry you will actually enter at a very different price than the one you are seeing on the chart.
Take half of your position as soon 1 time ATR reaches. For the second half bring stp to price you entered then switch the chart to heikin ashi and ride the trend till candle changes color. Simple
The thing is you cannot catch the top and bottom of market. Heikin is little better and efficient
I have tried this simple EMA crossover strategy in Strak and it is giving amazing returns.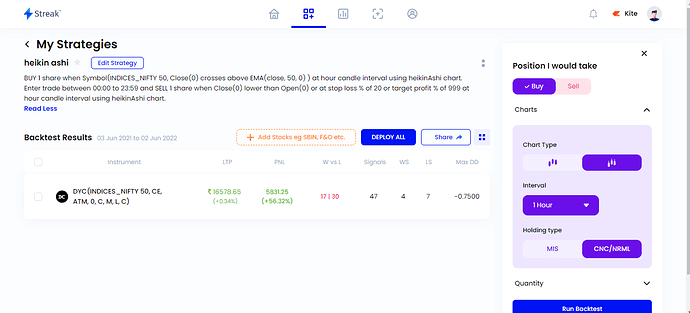 As advised by you guys @anon75004691 @raoawesome i am using a higher time frame and riding the trend till a red candle is formed. The results are satisfactory. Also checked with the streak support, they are using the actual candlestick price as the entry price, and only checking the signals on heikin ashi. So the backtest is pretty much realistic i guess.
I Will forward test this for some time, lets's see what returns are generated.
You cannot trust such small sample size! I dont trust any backtest that does not have atleast 300 to 500 trades spread across min 5+ years.
True that, will check more backtest data.
Yeah. Do forward test more. 47 trades are too less. Trending strategies go into drawdown in sideways market. So you may have to tweak your stoploss and exit criteria according to market scenario.
It can be a very profitable strategy if traders know how to use it. It uses historical data and filters the market noise.
Yes, I am seeing that on a larger period these are working.
Can you please elaborate more on the exact flow you used? Thanks
@zeusalpha I am exiting only when a red candle is formed so that I can be in the trend for as long as possible. This is a simple EMA crossover strategy, you can check the conditions here-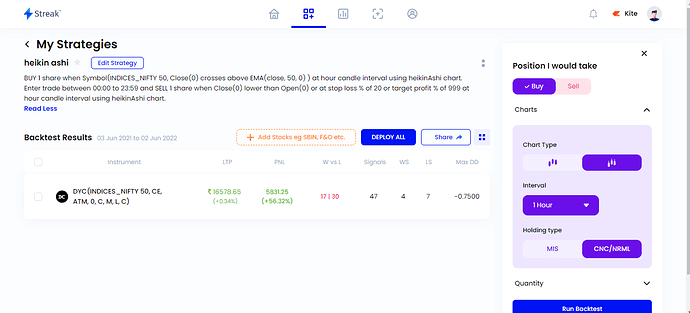 [/quote]
@anon75004691 can you tell any criteria to check or predict that it is going to be a side ways market, so that we can already be cautious and change out strategy