Can someone suggest or help in choosing a best tax saving fund in coin right now?
DSP BlackRock Tax Saver Fund
Axis Long Term Equity Fund
Franklin India Tax Shield Fund (not available on Coin)
Reliance ELSS Tax Saver Fund
Birla Sunlife 96 Relief Fund
pick any one from the above (except # 3 of course)
When invested in a tax saving fund, how to submit the amt invested in the fund during that year to claim tax exemption?
@Vijay- is your query about investment proof?
Yes, what is the investment proof?
Hi. I also have a similar query regarding the investment proof. How do we produce the proof of investment in these tax saving funds?
Hey guys,
Once you've done the investment in ELSS funds, you will find the investment proof in Portfolio section of Coin.
See the attached screenshot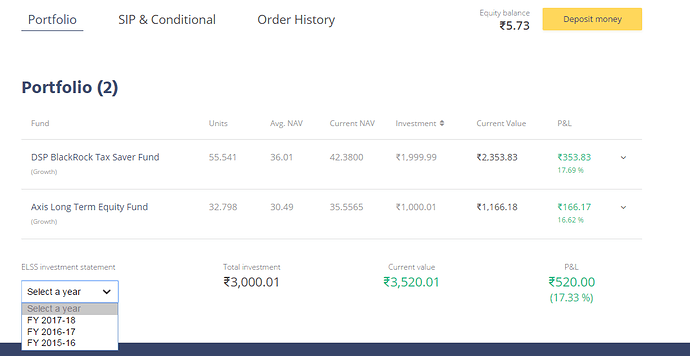 Can we download the statement? And submit the same as proof?
(post withdrawn by author, will be automatically deleted in 24 hours unless flagged)
Yes you can submit this as an investment proof
I need to invest in a fund for less than a year. Are these funds suitable for tax saving, if my period is less than a year?
All Tax Saving funds have a lock-in period of 3 years.
Kotak TaxSaver is also a very good option to invest in.
I requested for statement from CAMSONLINE and my investment is AXIS long term equity fund was missing from it?
Also, i do not see my MF investments in MFUTILITY
Why cant i see my investment in MFUTILITY? it is very easy for me to track.
thanks
1)- Motilal most long term
2)-Mirae tax saver
Presently I would say Reliance tax saver fund and birla sun life 96 fund are the best.
Quick question about investment proof.
Let's say we invested 10k in a Mutual fund and current standing of Mutual fund is 9900. So we'll have tax exemption of 10k or 9900?
Thanks
Ajay
Invested amount (10K in your case). is the exempted from tax.
If it was current standing than everybody would wait for NAV to go lowest and then file the return


In that case, Filing IT Return would have an option of SRF (Systematic Return Filing). JK.
Hi I am planning to begin Mutual Fund investments this year. My salary account is different from the bank account I have linked with Zerodha. If I make payments from the account linked with zerodha and get the investment proof as instructed above, will I get tax exception without fail? Is there any condition that the payments should be from my salary account for tax exception? Thanks in advance