This post was flagged by the community and is temporarily hidden.
I am not questioning your lessons. They are true but not the whole truth. Option buying is the perfect vehicle for a flash loss as its usually not a high probability game. Have you traded stocks in the cash market before?
I have 5 years of experience in stock market all cash, options, stocks everything I know about it… Traders have no life, check history… traders are killing each other
Very interesting… many people are day traders and are making money (I imagine they are Zerodha's target audience), do all of them end up having no life? I am asking because I am interested in becoming a trader too…
Just ask your self one question?
Can you win everyday?
One day win two day win, third day big loss, your 3 days gone… you wasted your 4 days of life… and so on
Your one year PNL says everything about trading…
Hi @stocktaders
That is not true at all… Not all traders lose money. As an option seller, I assure if you do it properly you will net be profitable by end of month.
-Do it strategically,
-Be less rallying on directional move,
-Try to do Hedged option selling and take more time decay advantage,
-Manage Risk and Position size that doesn't hurt you at all if you lose,
-Use options strategy that has higher chance to win.
I accept option sellers or buyers make money, but can you attach your PNL or any other sellers or buyers one year PNL to prove the point…
Most of my good trading life (After the Initial years) I have been risk-averse mostly. I only do positional trades with time frame of 1-12 months. I am in the positive. I use basic rules to ensure I am disciplined. I think my rules should work for beginners.
Only trade in companies that have consistent ROCE of 24% plus in 3-5-7 year time frames. Check this regularly and keep refining watchlist.
Only trade in companies above 20,000 mcap with the odd exceptions (but not below 10k cr mcap)
I have programmed simple criterias(nothing complicated) with basic Pine Script. I take 10-20+% and move out.
Infact I buy on the so called "death cross" on some companies that satisfy the above criteria

. Position size takes care of portfolio drawdowns. With this criteria in place, I do not accept a loss most of the time(not for everyone), unless there's another opportunity. Believe me, when you have high ROCE criteria in large compounding companies, it is possible to employ good trading strategies with not too much risk.
Only recently I have been trying to learn F&O, watched almost all tastytrade videos, F&o beginner here who is learning and reading about bactested studies. I dont get into anything without doing a ton of theory, practical will still be life changing I suppose

so, I think you should not join our group, you are the winner of stock market,
This club is dedicated to looser of stock market for traders… Accept the truth if you want to save your money…
I am not questioning your truth. And it is true, most lose money. But if you choose your stocks wisely and dont do too short timeframe trades (here too some do well), it is possible to learn and be better. All the best.
not most, 99% loose money, only 1% people with Golden heart make money
@stocktaders bhai i am full time trader , 10 years of experiance , every month i am making 2.5 to 3 lakhs without fail for more then 5 years , if you know to swim then you are a good swimmer , i am living through stock market only , bhai the trading profit i transfered into invest in good stock , now i am getting dividended itself per year 2.5 lakhs , i am also investing in USA also , if your plan is good then every thing is good , this month performance i will post here
i win 10 times continusely 60 days challenge , this i flash for your wrong argument only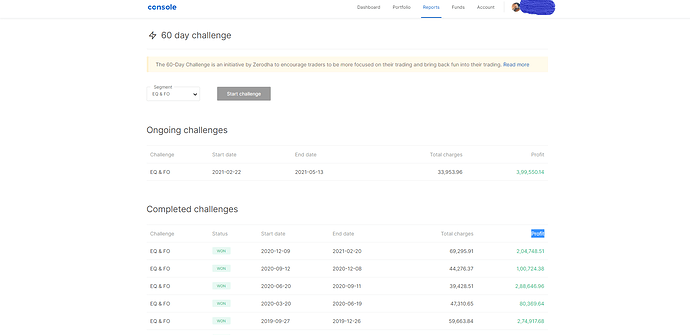 in zerodha i make every month 1.5 lakhs and motilal oswal 1.5 lakhs every month
last year my profit total including zerodha and motilal 21 lakhs - the same i invested in good stock
You will be given award for your achievements, but we are looser in stocks market, and cannot loose more… if we trade like you, all screenshots will be in RED only …
stock market is running full of maths - learn a perfect strategy - only one strategy is enough to make money in market - i am using only one strategy , people are come to stock market they think to make a quick money , its not possible anywhere , then how its possible in stock market - psychology emotion those who are coming to stock market , better those people never come here , Emotion is the key here to loose
even if you know everything, you will still loose money in options, future, trading… do not waste your time…
@stocktaders i am trading only in option , i know very well , i handle the demontization , corona event , 2008 lehman crisis , still i am surving in good risk management , i am not trading in futures, i am not a intraday trader , i am pure option trader , my capital grows 5X through CAGR in 10 Years , i know very well the strategy
@stocktaders in ALL business there is profit and loss , if you fear for the loss then you are not the right person to be in a business , for you best is FD , prathan madri awas yojana , LIC Policy like that ,
in Business the main key is how you are managing your business in diffcult time
This business is dedicated to loss only, Trading is not business, it is gambling, and gambling has no future… and no options
@stocktaders ok its upto you , without knowing anything you try to do in the planet is gambling