Is MIS option not available for cover orders? Why?
Hello,
Just like MIS is a product type, Cover Order(CO) is a product type by itself.
Let me give you examples in Kite -
This is the Buy order window for SBIN. Here, you can see that MIS is a Regular Intraday Product Type. You can place an MIS order at any of the following order types - Market, Limit, SL and Sl-M.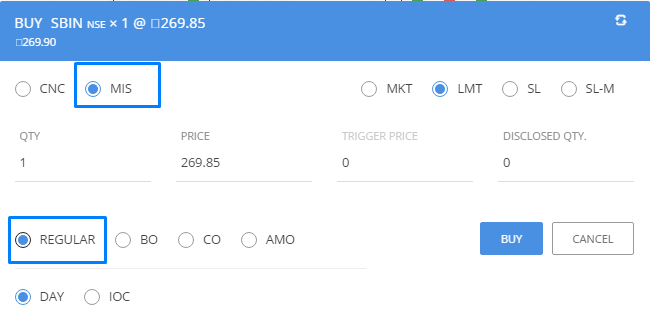 To place a Cover Order(CO), you will have to separately select the CO option. CO is a Market Order. You will have to compulsorily enter a trigger price which will be your Stoploss price. Cover Orders can be exited only at Market Price. When your target is achieved, you will have to go to your Orderbook which will have your trigger order as an open SL-M order. You must select this open order and hit 'Exit'. Your CO will be squared off at whatever is the market price then.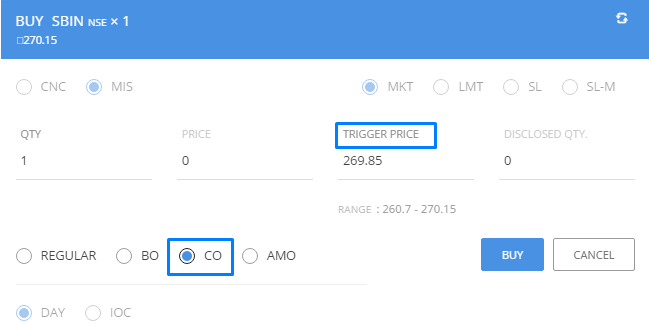 We have a Kite by Zerodha playlist on youtube. Watch these videos to clear your doubts on order placements.
@anon75004691, When you select Cover order in Pi, the product type gets greyed out. If you select a Normal order, the you can select between NRML and MIS.
I think I could not explain my Qn to you properly.
"Cover Orders are meant only for Intraday traders as all Cover Order positions are squared off around 3:20 pm for Equity & F&O, and around 4.30 pm for currency. Margin required depends on the stop loss price you mention. You cannot carry forward cover order positions to the next day."
I found this on z-connect.
@BharatW, So CO orders are intraday orders by default and one doesn't need to select MIS right?
@anon75004691, Yes, Cover Orders are intraday orders by default and you cannot select MIS while placing a CO.
MIS orders(Margin intraday Squareoff) are also intraday orders but they will require more margin than a CO because you dont have to specify a stoploss while placing an MIS order.
Thankyou for clarifying.

Hi Trader, MIS and cover orders are your leverage facilities provided by the broker. These cannot be mixed. Cover orders give you higher leverage but your stoploss cannot exceed the system specified price. In MIS, leverage is slightly less but there is no compulsion of stoploss.
Yes. Thank You I have understood the concept now.

Mobile app kite not accept bo order why?
Not able to exit cover order
can we place limit in Cover order ???
When we intend to place BUY/SELL through cover order we used to place market price as our entry point. But If we able to place Limit entry then that would be good.
Recently seen a twit "we will be able to place LIMIT in cover order…"
If yes then please let us know…asap
Why does Pi no longer place CO/BO ?
The message says, place them on kite.