You can follow this process to get your Client ID.
If you are still getting error, maybe try after some time.
Yes, after paying premium to buy RE's from market you will have to pay Rs. 50 per share when you apply.
The premium you pay to buy RE's goes to shareholder who is renouncing his rights, this doesn't get counted towards price of M&M Financial.
You already have 500 shares bought at 151 (Total Value: 75,500)
You apply for 5 shares of M&M Fin. at Rs. 50 (Total Value: 250)
Your average price: (75,500 + 250) / 505 = 150.
AND I HAVE HOLDING OF M&M FIN I FULFILLED ALL CONDITION. BUT HOW CAN I BUY IT FOR @50. Please tell me
RE's are Trade-To-Trade and Intraday and BTST isn't possible in T2T stocks. when you Buy them you can only sell after T+2 days when they are credited to your Demat account.
If you have RE's in your Demat account, you need to follow below steps to apply for Rights Shares.
How to apply for the Mahindra Financial rights issue?

Once you either receive the REs from the company or purchase it from the market, you will need to apply for the rights shares using Netbanking ASBA. You can check the process in this post . You can verify your entitlement on the website of the Registrar & Transfer Agent . The website will not be completely live until the issue opens.

You will need to enter your demat account's Beneficiary Owner ID which is a 16-digit number while applying either on the RTA's website or through your bank.
If I buy RE today & I do not have any M&MFIN share in Demat. Will premium be added in price of share after buying entitlement share @50?
If not effective price for sake will be like I bought 1 RE @80 & that entitlement share @50 = 130. But in Demat that will listed as 1 M&MFIN share @50. Premium will be lapsed i.e. doesn't account towards buyer account.
Hi
Please inform which option needs to be selected among the two.
I am a shareholder as on record date …
I am renouncee and hold rights entitlement …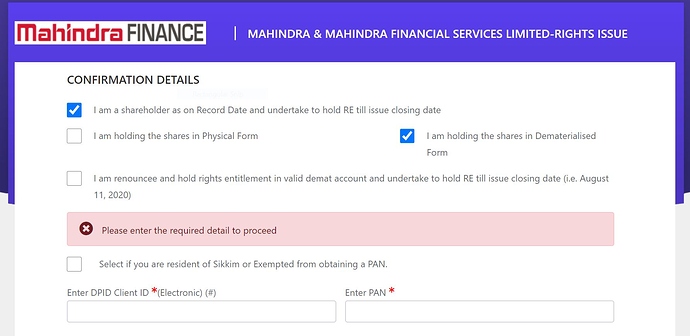 Thanks
Premium paid for purchase of RE's isn't counted towards stock price.
The effective price of buying rights shares for you will be Premium Paid + Rs. 50 per share on application. It will show as bought at Rs, 50 in holdings, on listing rights shares price will be same as M&MFin's price that day.
If you're buying REs from the secondary market, you're buying it from someone who is renouncing his right. The seller would be the renouncer and the buyer would be 'renouncee'.
If you were an eligible investor and had at least 1 share as on the record date, you'll need to select the shareholder option.
If you held M&M Fin's shares on record date 23rd July, you have to select option 1, if you bought RE's from market, select option 2.
I am using 5 paisa. Its not showing in my portfolio or holding
hey, did u received RE Shares, what did u do sell or u will apply rights issue?
Request you to contact them.
Have you purchased in margin buy?
And have you recieved
Hi shubh…WHile applying through ASBA they are asking for Composite application number…i dont get it what is compositr application number…how can i find this no…Please tell me
The CAF (Composite Application Form) number should no longer be required since instead of the CAF you receive the dematerialized REs directly.
The bank should have removed the requirement or made it non-mandatory on their portal. You may just enter a dummy number or reference number (after confirming with your bank). The RTA will only consider the demat account details when they are processing your rights application.
Hi Shubh,
When I try to purchase additional REs from market, it is being shown as:
M&MFIN-RE on BSE
M&MFIN-RE-BE on NSE
Are these two the same?
Will it be okay if I buy any of these two if I already have M&M Fin shares and REs in holding being shown as BSE?
Thanks for your help.
Yes, both are the same.
If you want to apply for more rights shares, you can buy additional RE's from market. You can buy on any Exchange (NSE or BSE) both are same, no issues there.
Hi shubh…WHile applying through ASBA they are asking for Composite application number…i dont get it what is compositr application number…how can i find this no…Please tell me, if im fill dummy ACF no then my aaplication will reject …