If I do so what will be my average share price?
I asked about normal m&m shares which you bought for 159
If I buy re shares now what will be my average?
I have bought RE's ( i didn't have M&M finance share earlier). 2 days back applied for rights. paid 50/- per share.
When the stocks of M&M finance will be credited to my account? and once credited can i sell immediately ?
The shares will be credited to your Demat on or about August 25th, and listing is scheduled on August 27th. Yes, you will be able to sell immediately after listing.
What if i sell RE's share now? will they refund my money?
I bought those shares way before 21st July
If you have applied for rights shares, should not sell the RE's. If you do you will not receive the allotment. In that case, Yes, they will refund your money.
Hi @ShubhS9
I am getting the error , " "Details entered by you does not match with our records, please enter the correct DPID Client ID or Folio number" while applying for the Rights issue . Please guide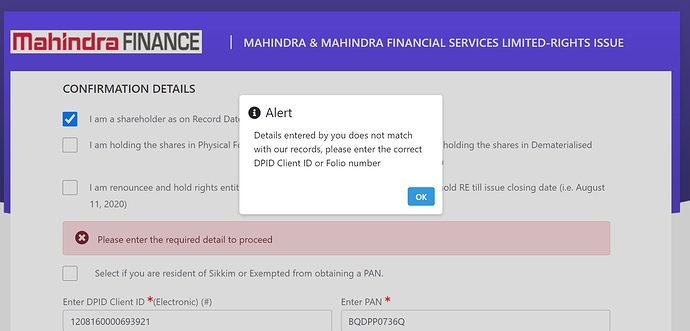 You need to ensure that you're using the 16-digit ID available here .
The DP Name is Zerodha Broking Limited.
Should you see an error 'Invalid DP ID/DP account' you can split the demat account number (16 digits) as DP ID: 12081600 and DP account: the remaining 8 digits.
Alternatively, you can apply via your Bank's Net Banking ASBA portal as well. The process is similar to process of applying for IPO, if you don't know, you can this post to know the process.
How can I apply for M&M Financial rights issue 2nd time?
On 29 July, I have purchased 100 RE and applied/paid for 100 Rights Issue Shares using R-WAP online portal.
Later I purchased another 376 REs in my ZERODHA account (so now holding total 476 REs). How can I pay for the additional 376 Rights Issue against 376 REs? For some reason R-WAP is not allowing me to pay.
Do I have to visit a bank on Mon 10 Aug to pay using DD/Cheque or any other method to pay online?
Thanks in advance.
Ashish Jain
Multiple applications through same PAN card will be rejected.
You have applied through R-WAP, you will have to make incremental application for RE's you have bought, this will get tagged to your original application.
Thanks so much for your reply Shubh59.
How can I make an incremental application. Any link/document to help.
Thanks in advance,
The same way you made the first application.
Yeah, I thought so but now that R-WAP link is not allowing payment option.
Originally, I went to
https://mahindrafinance.com/investor-zone/rights-issue
and selected R-WAP option where I could mention my DPID and PAN CARD and straight went to payment option.
However, now, R-WAP link opens but on the last step when I select the checkbox "I am a shareholder as on Record Date and undertake to hold RE till issue closing date" it does not provide option for payment.
I have found payment option available on my KOTAK BANK ASBA option but I am wondering if that will be counted as 2nd option?
Maybe you should contact the registrar and get more information from them.
These are their contact numbers
18004258998 / 18003454001
That will make two seperate applications from same PAN, as I said above, multiple applications will be rejected.
Dear Shubh59,
So, I just managed to make the payment using R-WAP portal. Good news is that it did mention that I already have an application and new application will be tagged under the original. So, I guess it will be an incremental application as opposed to NEW.
Thanks for help.
Your reply saved me. If I did not see your reply, I would have paid through KOTAK Bank resulting in 2nd application and rejection.
Thanks so much buddy!!
I have 150 rights in my demat, 50 out of 150 credited to my because I was holding 50 shares on record date remaining I bought from secondary market. Now I wanna apply for 150 right shares but when I am trying to apply it through RWAP Process it's allowing me only to the extent of 50 shares ( credited because of holding shares on record date) and applied the 50 right shares now my doubt is can I apply the remaining shares through NetBanking?