There should be somebody in this forum who could help me out.
I have a link to excel sheet, whereby I can track my live positions directly in excel.
What I really need?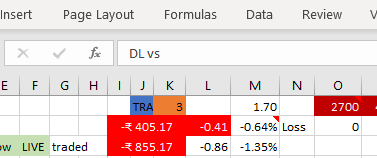 If mtm cell hits a specific value say, 3000, then, it should give a popup/notification/or stop calculating the cell.
I only know few basics of conditional formatting whereby I build this sheet from scratch.
I can apply a condition, say, Cell I1


The issue is, it ll reflect TGT hit, but I ll never know, if I failed to look at the cell. I want to stop, the conditional calculation, once it fulfils the condition. Means, tgt hit, should stay as text, not vanished if value goes less than 3000.
This will help me to capture moves on overall positions instead of waiting for tgts on single positions.
Please spare a little of your time to help a fellow Tqna out. I know this forum is filled with smart men.