Russian War , Supply chain chaos driven Inflation, Rate hike worries - Markets are rattled to say the least. But, there are few quality stocks (at absurd valuations) which are slowly correcting and are slowly but surely getting to levels where they will be more attractive.
Yeah, I'm talking about High PE quality stocks like Asian Paints, HUL , Batas of the world, which are absolutely world class companies without a doubt but whose valuations skyrocketed to levels such as 95-100 PE.
What's happening in High PE Stocks ?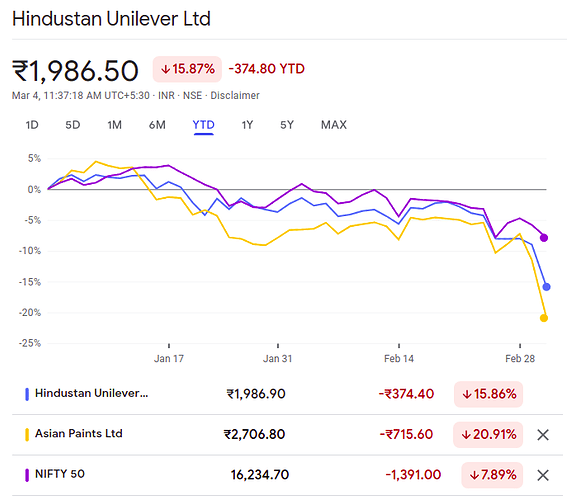 As we can see in the above picture, HUL and Asian Paints are underperforming the index and have both corrected 30% approximately from their highs.
Such a correction has been a rarity in the last decade as these stocks enjoyed exorbitant valuations due to various factors such as low interest rates, high growth demonstrated by the companies and also tailwinds like cheaper oil and other raw materials prices, With inflation not looking like heading lower anytime soon, these tailwinds may soon become headwinds for these companies.
How expensive are they currently after the correction ?
Mr.Shyam Sekhar's Tweet perfectly explains the current Scenario.
Against a TTM PAT of 3032 cr, Asianpaints is now trading at a market cap of 275429 crores. Its price to sales is 10 times.

Sherwin Williams , a company 5.5X the size of Asian paints by sales, trades at a valuation of 500000 cr. Price to sales is 3.3 times.
As we can see, Compared to global peers which are similar when it comes to market leadership like Asian Paints, The stocks are still expensive relatively speaking.
My Assessment : With rising interest rates globally and comparatively higher valuations compared to their global peers, the under-performance of high PE FMCG companies may continue for sometime. With technical bounces and recovery happening at a slower pace than what it used to be in the previous decade.