what if someone took long position Friday??and for all who have positions?
Don't worry they will be hedged.
Mostly crudeoil traders are institutional not retail
Their positions are screwed, they will end up in losses if they are long side without any hedge.
Will there be traders in zerodha who would be holding longs?losses per lot would be around 1000 pts?
Is anyone here who went long on crude this Friday
When international markets opened today, the crude WTI futures was gap down by 25%. Why there is not GAP opening in MCX, which opened like 5.5hours later.
MCX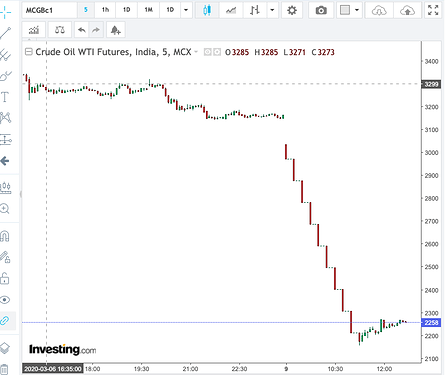 @siva the margin for crude is near about 50000. I think loss of trader could have exceeded it . How did Zerodha manage this ,how would you recover amount from clients.
There was no gap down but market touched International low then somw volume came in and prices recovered.
Nothing can be done in these cases, we try to close as many as we can, if any few exceeded their capital they need to bring it back.
My WhatsApp friend .
He long on crude future Friday
What will he do
Feel sad bro thats why i thought what could have happened to those who were long.but at current scenario where negativity prevails and zerodha not allowfor Bo Co Mis orders were clearly a sign of caution.
No i heard some people trade on geospatical info and far do you know any co providing in india
there was around 75 crores loss on all positions on account of that fall ,but there would be few who didn't take position just because price fell low on Friday and many took overnight position and they got screwd.the one who advises me told not to take any position.
Nope its geographical insight.
also tradeflow and shipping info
do you think some minds in markets doesn't know the info before itself.just like stocks where after big moves happen and then news come in and retailers get trapped.