How to add allotted IPO to my holding in Zerodha ? kindly provide step wise step procedure for same.
If you get the allotment, you need to add the price and the quantity manually in order for you to be able to see the stocks in Kite/Pi/Q. Once the allotment happens, Zerodha has no way of determining the price at which the allotment happened. To manually add the price you need to go to
Q>Porfolio>Holdings and click on "Add/edit discrepant quantities".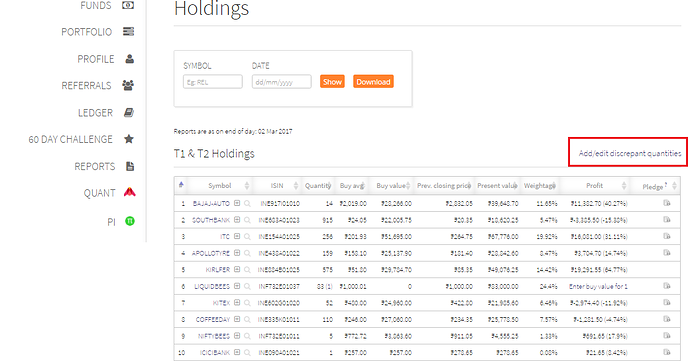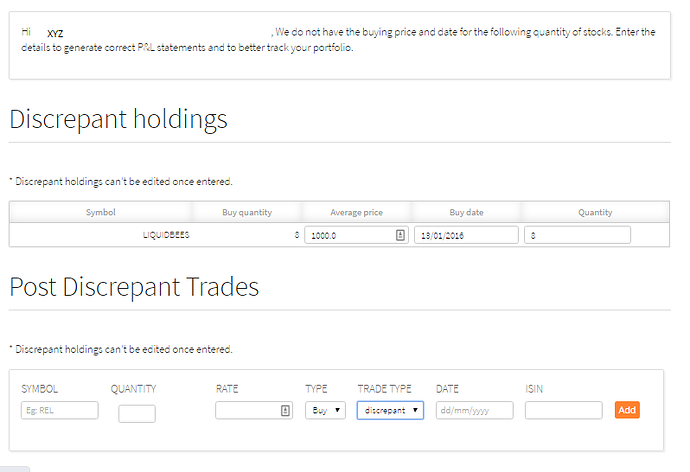 Enter the necessary details and click on add. Your holdings will get updated with this buy price on Q, Kite, and Pi from the next day.
i got few more small queries.
I got allotment text from CDSL on 31-08-17 and i have put BUY Date as 01-09-17. Does putting the right date matter ?
Does giving some other symbol name than the one given by BSE matters ?
IF its showing in your Holdings Not to worry.
BUT
Yes, Its as simple as that You have to Transfer Money In Someone else Account And you Put Wrong IFSC Code.
What will happen?
Your Shares are safe in Your Demat A/c Dont worry.
All You need to do Contact Your Broker if you put Wrong Date and Symbol.
How to add the sovereign gold bonds purchased through bank into my kite holdings?
Right now not able to add this way it is diverting me on another page so how to add it.