Can somebody let me know how to apply for an IPO through Zerodha.
This post will explain how to apply for an IPO through HDFC Bank netbanking. If you have a different bank account, then you look for ASBA Services or IPO Application in your bank's netbanking. Your bank has to be an SCSB(Self Certified Syndicate Bank) with SEBI to be eligible to provide IPO Services.
Once you login to you HDFC Bank netbanking, you have to select the 'Request' tab.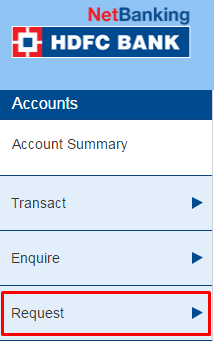 Once you scroll down the Request Tab, you will find the "IPO Application" option.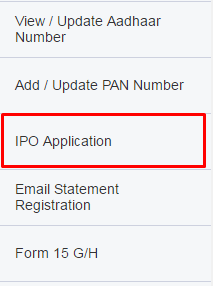 Select "IPO Application" and continue to the IPO system. You will be redirected to the HDFC Securities page where you will see all open IPO issue names.
Currently, S Chand IPO is open in the Price Band of 660-670. Make a note of the Price Band and hit 'Apply' under the Active Tab.
You will be redirected to the order placement page.
Select Investor Status as IND RETAIL. You will get an ASBA pop-up.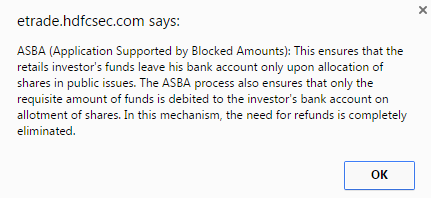 This informs you that the amount equivalent to the IPO bid amount will be blocked and will be debited from the bank account only if the client receives an allocation. This ensures there is no hassle of a refund.
Bid Details - You can enter upto 3 bids in the Price Band of the IPO Application. All bid quanitties have to be multiples of the IPO lot size(lot size = 22 in case of S Chand).
The Max Investment value per investor is Rs.2,00,000(Rs.2 lakhs).The maximum quantity you can apply for is 286(13 lots).
Depository Details - Select Depository as CDSL. Zerodha is a Depository Participant(DP) with CDSL.
Enter DP Name as Zerodha.
Enter your 16 digit Beneficiary Account Number. You will find this information in your Q backoffice > Profile > Depository Details.
Your 16 digit DP ID for IPO Application = 8 digit DP ID + 8 digit Beneficiary ID/DP Account number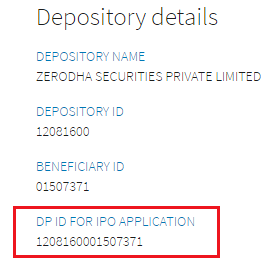 Please note, if you have an ILFS Demat then your Depository is NSDL and you have to enter the 8 digit DP ID and 8 digit DP Account Number separately.
Confirm these details to complete your IPO Application.
Important Note:
If you are unable to see your IPO order in the Orderbook after confirming it, it is because the order confirmation window was blocked by the pop-up blocker.
You have to allow the pop-up and then you will get a window confirming your free cash status with respect to the IPO order -
If you have the necessary funds, then you have to finally submit the bank detail after which your IPO order will be successfully placed!
Good luck.
Hi BharatW - Appreciate your detailed explanation on the subject. Cheers…!!
I had placed a bid for IPO through HDFC Netbanking. Also the amount was blocked from my savings account. But no order is being displayed, when i check under "Placed Orders".
Why is this happening? Is HDFC purposfully playing with non HDFC demat customers?
Also other Zerodha customers with HDFC ASBA, please share ur experience…
@Robinson_S, where did you confirm that your amount was blocked from your savings account?
but the amount which gets blocked is from which account ? from Zerodha OR from HDFC ?
@Niks_Jose It's always blocked from your Bank account. It doesn't get blocked in Zerodha. If you'd applied via your HDFC net-banking then it's blocked from that account.
Okay thanks for the quick response…
One more info… I have two dmat accounts one with hdfc and one with zerodha… I have been applying via my hdfc bank in the hdfc dmart account. Now I wanted to apply in my Zerodha. I will not apply multiple times in both the IPO'S. I just want to apply now onwards in my Zerodha. So should I close my HDFC dmart account?? As they would have mapped my PAN with the HDFC dmat. Or I can just go ahead and start applying in my Zerodha dmat details in hdfc bank.
The same PAN can be mapped to multiple demat accounts, so you apply for IPOs using your Zerodha DP ID. But I wonder whats the advantage of having a demat account with HDFC.

Hi Bharat
There is a recurring problem with HDFC, I have my de mat account with Nirmal bang… when I am applying for IPO … it just does not accept my application
Time and again the place order window comes back… even after confirming again the same window comes… do u know why…??
If you are unable to see your IPO order in the Orderbook after confirming it or the order window pops up again even after you confirm your order, it is because the order confirmation window was blocked by the pop-up blocker.
Look out for this and allow pop-ups:


Then it'll take you to the order confirmation window.

@BharatW Thank you for the detailed procedure. Fantastic.
Is there any pop up blocker window on the I-pad…?! I haven't seen anything like that yet… I am doing all this procedure on my Apple I-pad…!!
It's done Bharat… thanks for the help… same problem what you said…!! Thank you
I applied for an IPO using this procedure and reached the confirmation window as well, but I'm not able to view the IPO listing in 'IPO Order Book'. How do I confirm whether it's done or not? Do I need to reapply?
My Popup blocker is turned off. Still I see a BLANK screen after pressing the Confirm button after filling the form.
Order not there in Order Book as well.
You need to check with HDFC.