We know that taking an insurance policy is very important to secure the financial situation of the policy holder and this is also very well explained in various videos and also by Ditto and articles in Zerodha Varsity.
Insurance companies are very happy to onboard customers by hook or crook but when the time comes to honor their obligations to the policy holders, this is when they show their true colors. This is where they put in
many hurdles so that they cut down on the money that they need to pay or in the worst case do not pay at all. The hurdles come in many different ways for ex. complex claims process, request for unreasonable documents, illogical argumentation etc.
All policy holders should be aware that as important it is to take a policy, it is also very important to be aware of your rights and also what to do when the insurance companies do not honor their obligations. In this article, I attempt to bring an awareness to the best of my knowledge and experience as to what options are left with the policy holders to resolve issues with their insurance companies.
Methodical manner to deal with the insurance companies-
Step 1: Be aware of all the policy conditions and the claims procedures well in advance and do not try to figure out these things during a claim process. Even a small mistake or any omissions from your side will be seen with a magnifying glass by the insurance company.
Step 2: Get in touch with the service helpline of the insurance companies within stipulated timelines. It is better to keep all the conversations with the insurance company in email. If you get a call/when you need to call, Please keep all the recordings until you resolve your issue.
Step 3: Meticulously collect all the documents related to the issue and whenever possible keep all the documents/emails in pdf format. Also wherever feasible, scan all physical paper copies into pdf files.
Step 4: When there is no satisfactory answers from the service helpline or if there is lot of to and fro communication without any solution, then lodge a complaint with Grievance department of the insurance company. They need to address the issue within stipulated timelines.
Step 5: When there is no progress from the Grievance department or their answers are not satisfactory, then lodge a complaint with https://bimabharosa.irdai.gov.in/ . This is one of the website setup by IRDAI to help policy holders to resolve the issues. The website is buggy but nevertheless you will get replies from the company. At this point the government gets involved and each case filed will have an impact on the insurance company's metrics and they are answerable to IRDAI.
Step 6: When there is no satisfactory resolution with the Bimabharosa website, then you can approach the Insurance Ombudsman on their website https://www.cioins.co.in/ . This again belongs to the government. The process is straight forward and everything can be done online from the comfort of the home. With the Ombudsman, the setup is more like a quasi court and once they accept your complaint they will tell you what to do further. There will be hearing with both parties and with the Ombudsman and the entire process is video recorded.
Step 7: There are two outcomes with the Ombudsman. First one is that the case is dismissed and the insurance company wins and the second one is that the Ombudsman award is given in favour of the policy holder. When the award is in the policy holder favour, he can accept it or if not satisfied, then can approach the consumer/civil courts. However, it is legally binding on the Insurance company and they need to implement the award with 30 days.
Step 8: Sometimes the insurance companies are adamant and sometimes reckless not to honour the awards of the Ombudsman within the stipulated timelines(as was the case with me). In this scenario, you can check with the Ombudsman again or write to IRDAI directly at [email protected]
Step 9: After this you can also fight your case in the consumer court at https://edaakhil.nic.in/ or offline in any civil courts.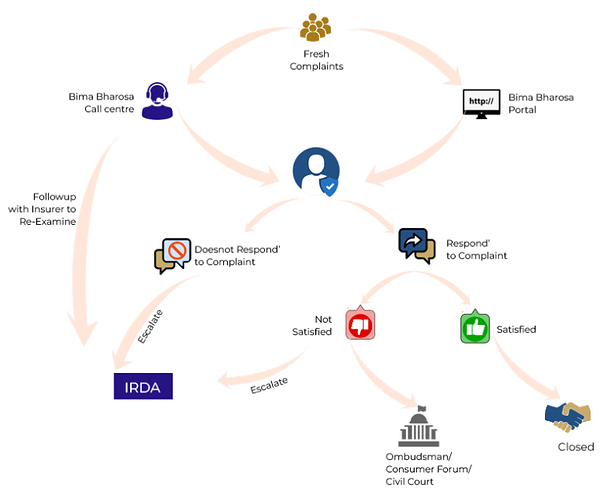 [Source:
https://bimabharosa.irdai.gov.in/Home/OurProcess
]
The above method may not be holistic in nature and it is what I followed and it did help me resolve my issues. When others have a different experience, please post them here so that others can learn from it.
In my opinion, I feel that the govt of India is determined to make a change in this sector and help the population to secure themselves during uncertain times. Furthermore, many of the processes are getting digitalized and becoming more efficient and affordable to everyone.
My Experiences:
Insurance Company: TATA AIG
When did it happen: 2021
Time to solve my issue: ~1 month
Insurance Type: Group Health Insurance
Issue: My mom went for a regular health check-up and the costs were supposed to be borne by the insurance company as per the policy. They refused to honour the claim and also failed to provide the clause under which they reject the claim. I lodged a complaint with Grievance department with no luck. I lodged a case with Bimabharosa and my issue was resolved and the amount was paid out.
Insurance Company: Star Health Insurance Company
When did it happen: 2022
Time to solve my issue: ~1.5 months
Insurance Type: Individual Health Insurance
Issue: Refused to add my father to the policy and delaying renewal of the policy. I waited for about a month with no luck with the company. I lodged a complaint with Bimabharosa and still no luck. I lodged a complaint with Insurance Ombudsman and my case was accepted as legitimate. Before the Ombudsman could hear my case, the company already resolved my issue and renewed the policy by also adding my father to the policy.
Insurance Company: HDFC Life Insurance Company
When did it happen: 2023
Time to solve my issue: ~3.5 months
Insurance Type: Term Policy
Issue: Failed to collect correct premium from me because of some issues at their end. They did not give any reason as to what happened. They turned my policy into lapse state and never informed me for 3 years. When I requested on the status of the policy, they confirmed this over email. Now they are asking me to pay more to renew the policy for no fault of mine. I refused to pay this additional premium and the company does not accept my stand. Lodged a complaint with Bimabharosa but no luck. Approached Ombudsman and they accepted my case.
They lectured the insurance company and that their demands are illogical and provided an award in my favour. Company was given 30 days to comply. The company interpreted the award as in their favour and also told me that I understood the policy differently and again asked me to pay more. I later approached the Ombudsman and also the IRDAI. Finally the insurance legal team got involved and resolved my issue.