Hello Friends,
The word SuperTrend is very delicious. It looks far better and mouth watering, when seen in Kite. Though blindly following from Supertrend to Supertrend doesn't give any result.
So how can Supertrend (ST) be used? I invite all the friends here with their opinion / experience.

To give it a start; following are my views
It can be used in any of two following ways:
1. Since it is trend showing tool, before taking any trade based on traders strategy, he can check with the trend showed by ST. Only trades complying with the then trend of ST may lead to profit.

2. If ST is only the strategy, it can be used with "trailing the profit".

When to enter: Entry to do at beyond high of ST (In longs) and Below the Low of ST (In Shorts).
Important-> If new highs or lows are made, entry to do above/below that new level as shown in following image of banknifty 15 minutes in Kite. If new signal comes, before the trade is taken, leave previous signal and work with new signal.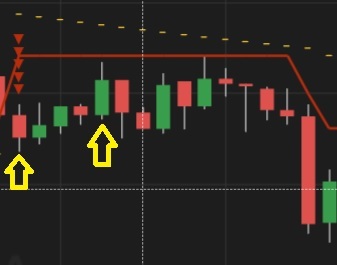 How to trail:
* Taking example of Banknifty, enter in trade with 4 lots with SL of 40 points.
* Exit 2 lots at 20 point profit. In 99% cases, this should not be a problem as movement of 20 points for banknifty is easy. This would reduce loss, if SL is hit further.
* Exit 1 lot at 40 point profit. This will ensure some profit in the trade.
* Trail by 80, the remaining one lot for 300 point profit. Why 300, because 300 points movement in a day for banknifty is possible and seen.
Also refer: http://tradingqna.com/45119/trade-supertrend-with-discipline-will-profitable-end-month#a45123​

Thanks.