In this recent ongoing brutal correction (Which resulted in almost 1500 points fall in a week), One Sector which has corrected incredibly but has not yet been noticed by the investing community is the Nifty IT sector.
Here's the Chart for your reference :
Ongoing Crash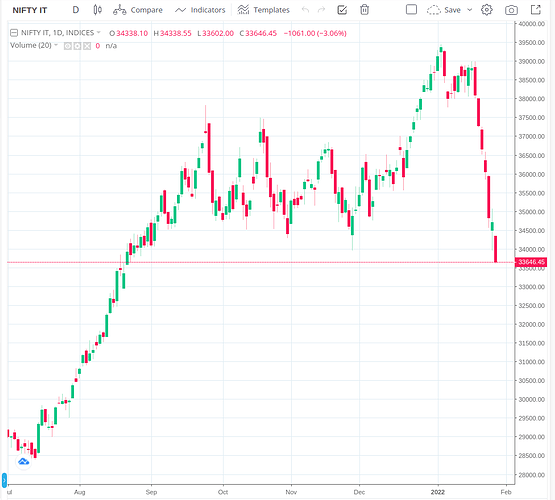 Nifty IT crashed down from 39000 levels to 33500 Levels within a span of 1 week.
That is actually Huge and the fact that it is not yet being discussed is even more absurd !!!
Let's try to dig a bit deeper and figure out what could be the reason for such a huge fall ? Before that, lets actually see how the sector fared from last 2 years :
Meteoric Rise during the Pandemic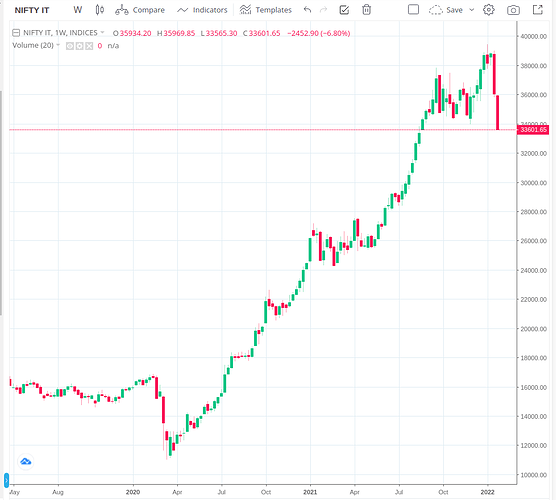 As you all can see, It fell from 16000 to 12000 levels during corona crash period and from there has risen up to almost 40k (which is almost 2.3 times)
Possible Reasons for the fall ?
One likely reason which kind of seems obvious is that Nifty IT is mimicking the fall in US and global tech indices like Nasdaq (which is linked to interest rate hike and rising yields due to inflation which causes risky high growth based asset classes to correct )

One more reason can be that they are falling under their own weight. (Too much of rise in too little time)

If we want to have a positive way of looking at things, One reason which is not that obvious but kind of possible is that the tech stocks, which benefited the most from Pandemic based restrictions from last two years. are indicating that the pandemic is coming to an end
Summary
It is extremely very likely that this fall might actually be a small blip in the larger scheme of things and the best of the sectoral move is done for the time being. But make no mistake about it, IT Stocks have created immense wealth to the shareholders in the past and selected ones will continue to do so in the future.