Why is jet Airways locked in 10% circuit? it's f&o stock the circuit should open?
Yep, for stocks in FO, circuit limits are supposed to be revised as soon as it hits the circuit.
Waiting since market open.
@siva, you know what's happening here?
There is no fixed price band applicable for stock futures contract. However in order to prevent erroneous order entry, a dynamic price band for futures contract is kept at a certain percentage of the base price as defined by the Exchange from time to time. In the event of a market trend in either direction, the dynamic price band is relaxed by 5% at a time in the direction of the price movement during the day in coordination with the other Exchange as follows:
a. If the dynamic price band of the underlying security has been relaxed OR
b. If the last trade in the contract occurs at 9.90% and more of the base price
AND
A minimum of 25 trades have been executed with 5 different UCCs on each side of the trade at or above 9.90% or more of the base price. This process is repeated as the price trend moves in the same direction.
c. In exceptional circumstances, all the exchanges consult and relax the dynamic price band.
But this jet airways case seems to be different, not sure why there is no relaxation yet.
No one is buying, someone has to buy 30 lac shares to move the price.
Volume is increasing but very slow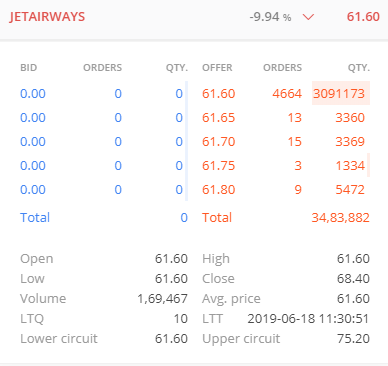 First time seen FNO stock in this manner, even RCOM on its worst days wasnt stuck
Maybe Jet going to single digit today only
Hi siva. I am not able to make a fresh trade in Jet airways options today.
It says only existing trades can be squared off. Could you pls advise why ?
Thanks
It is under ban, no new positions are allowed which can result in increase of Open Interest. Can check here for more.