The impact of COVID has had far reaching consequences, and no country or economy has been spared. Loved ones lost, jobs gone, markets have crashed… the list goes on.
But despite all this, there are some businesses that have weathered the storm. Their stocks have stood strong on the back of strong fundamentals.
These are companies that have effectively incorporated Environment, Social & Governance factors into their business strategy. This type of investing is commonly referred to as "ESG Investing" and investing in these type of stocks mitigates your downside risk as they tend to stay resilient during any market crisis and downturns.
This is a type of investing has already swept the West and is growing rapidly across the globe. An opportunity so big that as per data from UN PRI, the value of global assets signing up for this potential investment opportunity has tripled over 8 years in 2020 to $40.5 trillion.
The awareness around the benefits of ESG funds is growing in India as well. We are proud to say that Quantum is one of the first AMC's to introduce ESG as a fund in India.
Our ESG fund has beat its benchmark in its first year performance.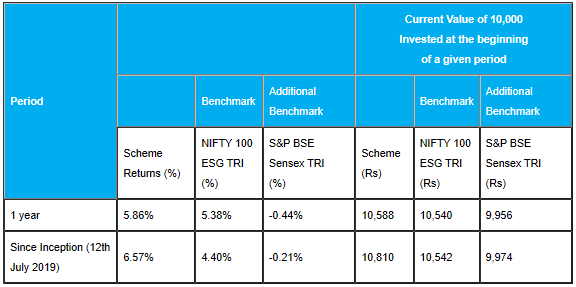 Note: The Scheme is managed by Mr. Chirag Mehta and Ms. Sneha Joshi.
Mr. Chirag Mehta is the Fund Manager effective from July 12, 2019.
Ms. Sneha Joshi is the Associate Fund Manager effective from July 12, 2019.
Past performance may or may not be sustained in the future. Load is not taken into consideration in scheme returns calculation. Data as of 30th September 2020
Different Plans shall have different expense structure.
The scheme has been in existence for more than 1 year but has not yet completed 3 and 5 years period.
Returns are calculated on the basis of Compounded Annualized Growth Rate(CAGR).
Mr. Chirag Mehta manages 5 schemes of Quantum Mutual Fund.
For performance of other Schemes Managed by Mr. Chirag Mehta please click here
The question is, how do we do that?
Our fund portfolio is purely based on ESG principles, irrespective of the PE ratio or any other factors. We look at the stocks ESG score to determine its weightage in our fund.
Low Score → Low Weight, High Score → High Weight.
Companies with a bad ESG score, will not make it into the portfolio.
To know more about ESG scores, you can – Watch Ajit Dayal explaining how Quantum works on ESG principle .
Quantum India ESG Equity Fund only invests in sustainable businesses with a high ESG score enabling it to gain risk-adjusted returns in the long term.
And if there was ever a good time to invest in a globally growing opportunity like ESG, it is now!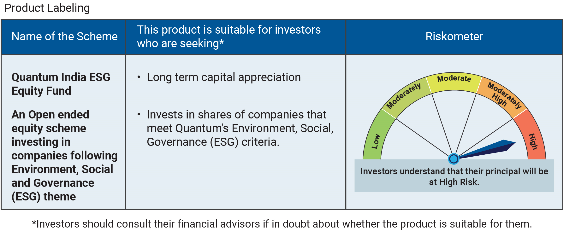 Disclaimer, Statutory Details & Risk Factors:
The views expressed here in this article / video are for general information and reading purpose only and do not constitute any guidelines and recommendations on any course of action to be followed by the reader. Quantum AMC / Quantum Mutual Fund is not guaranteeing / offering / communicating any indicative yield on investments made in the scheme(s). The views are not meant to serve as a professional guide / investment advice / intended to be an offer or solicitation for the purchase or sale of any financial product or instrument or mutual fund units for the reader. The article has been prepared on the basis of publicly available information, internally developed data and other sources believed to be reliable. Whilst no action has been solicited based upon the information provided herein, due care has been taken to ensure that the facts are accurate and views given are fair and reasonable as on date. Readers of this article should rely on information/data arising out of their own investigations and advised to seek independent professional advice and arrive at an informed decision before making any investments.
Mutual fund investments are subject to market risks read all scheme related documents carefully.
Please visit – www.QuantumAMC.com to read scheme specific risk factors. Investors in the Scheme(s) are not being offered a guaranteed or assured rate of return and there can be no assurance that the schemes objective will be achieved and the NAV of the scheme(s) may go up and down depending upon the factors and forces affecting securities market. Investment in mutual fund units involves investment risk such as trading volumes, settlement risk, liquidity risk, default risk including possible loss of capital. Past performance of the sponsor / AMC / Mutual Fund does not indicate the future performance of the Scheme(s). Statutory Details: Quantum Mutual Fund (the Fund) has been constituted as a Trust under the Indian Trusts Act, 1882. Sponsor: Quantum Advisors Private Limited. (liability of Sponsor limited to Rs. 1,00,000/-) Trustee: Quantum Trustee Company Private Limited. Investment Manager: Quantum Asset Management Company Private Limited. The Sponsor, Trustee and Investment Manager are incorporated under the Companies Act, 1956.