@nithin , Thank you for the good trading platform.
May I request a quick update which is desperately required on the order book for mobile view?
At present, the Desktop view of the Order Book page shows the Order price as set by the trader, as well as the LTP.

However, the mobile view of the same Order book does NOT show the LTP, but it shows only the order price set by the trader. LTP is really needed to check and adjust the prices as the trading proceeds. It becomes very-very frustrating to keep switching to the marketwatch tab to check the latest prices in the mobile view. Imagine the problem when one needs to check the LTP for multiple orders.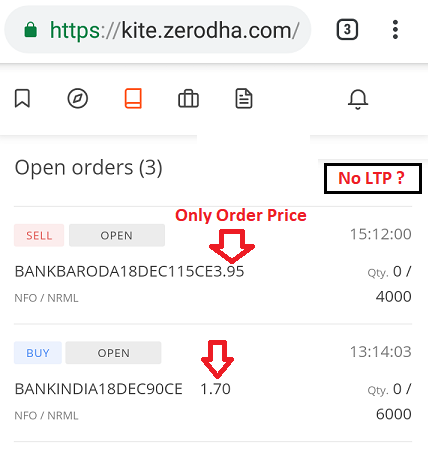 I therefore request you to please get the LTP added to the mobile view of the orderbook.
Couple of possible locations I can suggest:
If limited space in the mobile view is a concern, then the timestamp can be replaced by LTP. Timestamp is anyways not that useful.
In the mobile view of Open Positions, we can see both LTP and the Average Price. Why can't we have the same in the mobile view of Order Book at the same location (like at the position of LTP in Open positions)

Please get the LTP included in mobile view of order book for a larger good.
Thanks