I have been observing a trend which looks like some manipulation is going on in Nifty December 9000 PE and 10000 PE options.
I have some December 9000 PE options purchased at around average price of 70 and 10000 PE options purchased around average price of 100.
However, for the past few days I have been observing that some after-market trading happens and sets the last traded price of these options to a significantly low amount.
E.g. Few days back the DEC 9000 PE option was trading between 60-70 but all of a sudden overnight the LTP of the option got set as 8.90 which is about a 10th of what it was trading for. Due to this the circuit limit of this option got set as 0.05 – 29.90 whereas I imagine people will be willing to buy / sell it for much more than that i.e. around 50-70.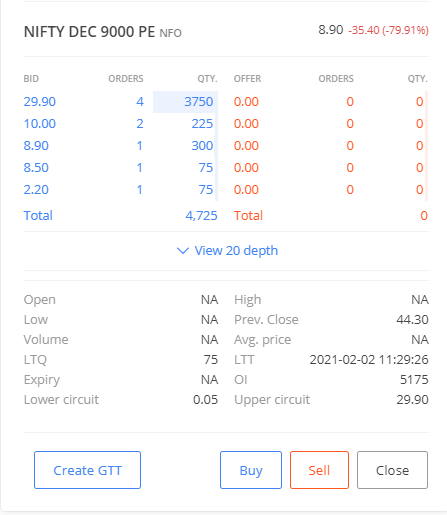 Due to the circuit limit no one can place a sell order above 29.90 so no one is selling these options but I can see a lot of buy interest at the highest possible bid price of 29.90. Of course some of these interested buyers would have bid around maybe 50-70 if they had the option to do it.
I was noticing this for Dec 9000 PE and now the same thing has happened for Nifty Dec 10000 PE as well. It was trading around the 100-rupee range just a day ago at market close. Then when I woke up in the morning, the LTP was showing as 32.75 so I imagine someone traded this option at 32.75 overnight. (Large funds?). Due to the same the 82.85 got set as the upper circuit limit and no one is willing to sell at this price as probably the fair market price of this would be above 100.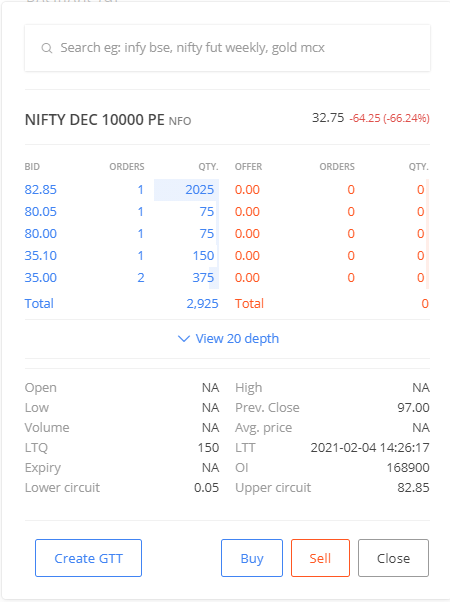 There is a lot of buy interest at 82.85 as that is the maximum buyers can bid for although they would probably be willing to buy it for 100 or above if they had the option.
So this makes me wonder why someone who has access to after market hours trading is executing a trade at a much lower price thereby blocking the ability of everyone else for trading these option at fair market value. Is my understanding right or is there some other mechanism at play here?