The market's current track is quite intriguing, as it is approaching its all-time high, hopeful.


However, despite this bull run, it doesn't quite give the feeling of a vigorous bull run.
@nithin tweeted, pointing out the lack of retail activity and new users not entering the market.
The number of active clients on the NSE, and also the buzz surrounding the market on Google and social media, are far below their previous highs.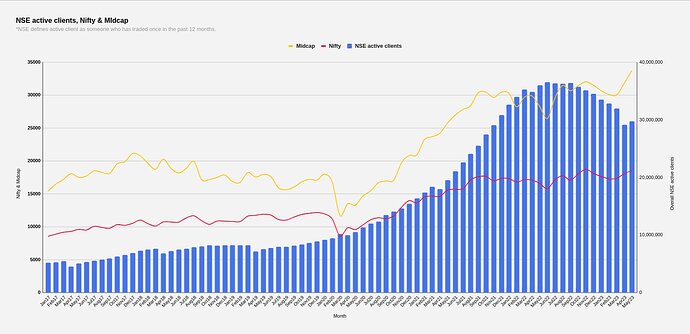 Suggesting that overall market interest and participation are relatively low. With the current higher interest rate environment likely being the contributing factor to this weak activity?
Bank FDs and government securities (G-secs) are currently offering higher tempting rates, attracting investors seeking more secure and stable investment options.
What are your feelings at the moment? People are inclined to divert their funds to these options as long as the interest rate remains unchanged? Or will Momentum return? Is there going to be a full-fledged bull run?
Posting the same poll that Nithin did on Twitter:
The Momentum will be back
The bears will be back
No idea