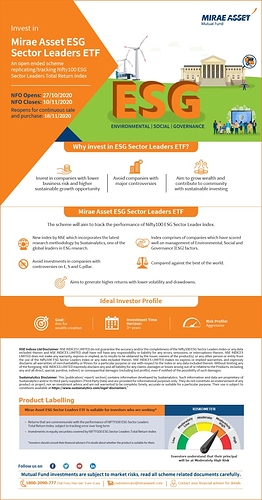 We are very pleased to launch the First Passive Product on the ESG framework in India "Mirae Asset ESG Sector Leaders ETF & FoF" . The ETF would be investing into the Nifty100 ESG Sector Leaders Index which is a newly constructed Index, which provides exposure to top rated ESG companies across sectors.
ESG ETF offers an excellent option and is preferred choice of investment vehicle across the globe. ESG ETFs are based on index that are constructed based on clearly defined rule which are very specific, leaves no room for ambiguity. Stock selection is based on the ESG research done by the global leaders ( Sustainalytics for this product) in ESG research which have immense expertise on the subject. Rule based investing approach of an ETF means that investor knows exactly what the fund will and will not invest, which is very critical in case of theme such as ESG. Fees are a crucial consideration when selecting a sustainable fund. Lower cost options tend to have greater odds of success as per report published by Morningstar.
Investors both Retail and Institutional investor may expose himself to risk arising from some irresponsible business practices which can cause abrupt loss to investment that can take substantial time to recoup. ESG investing provides extra non-financial information that helps in identifying long term sustainability of the business over the years. In the long run companies with strong ESG practices have competitive advantage which translates into higher profitability and brand image. These negative events are on the uptick in India as well and we are facing some of the highest risk in terms of ESG parameters. So, its mindful for retail investors to be wary of such a forthcoming risky environment where the portfolio has to be resilient in terms of ESG parameters as well.