Can I do bactesting in Nifty CE option while checking the condition Nifty Chart using CTB?
You cannot backtest on NIFTY CE option contract while checking the condition on NIFTY 50 chart using CTB.
However, once you get redirected to Streak after clicking on CTB, you can edit the strategy and use the "Symbol" function to add conditions on the NIFTY 50 Index and re run a backtest on NIFTY option contracts. Check out the sample condition screenshot attached below -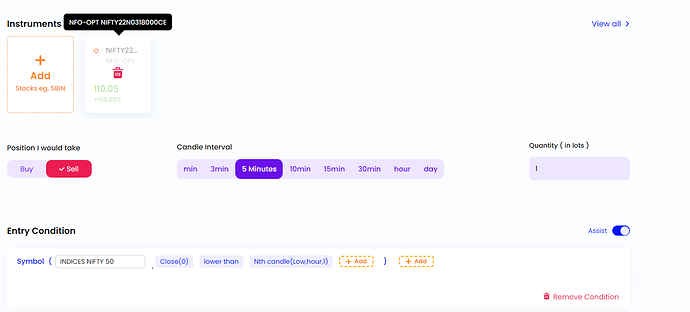 The NIFTY CE option contract in the screenshot will be sold when the current close price of NIFTY 50 Index on a 5 minute timeframe chart is lower than the first 1 hour candle's low price of NIFTY 50 Index.
To know more about the Symbol function, watch this Streak Version 4 Demo - Live Webinar - YouTube