https://www.google.com/amp/s/www.bloombergquint.com/markets/nse-to-exclude-34-stocks-from-fo-trading.amp

Again non-sense. Some deserve it much earlier bt what about others ?


SEBI and exchange have gone mad. There executives need to be changed , they are taking all the steps to lower the liquidity in the market which is already very less.
Lot of good and top names are not in FNO, I am assuming they will be entered into FNO soon
FNO had become full of kachra, while we had good stocks which were not trading in FNO, high time this happened. But yes they have removed some decent stocks too.
You are right @Newbie420 some stocks are not deserve to be in F&O list. Now regulators have space to add some Quality stock For F&O …
circular from nse : https://nseindia.com/content/circulars/FAOP40801.pdf
Below is the framework from sebi that was used for exclude / include the stocks in the derivative segment.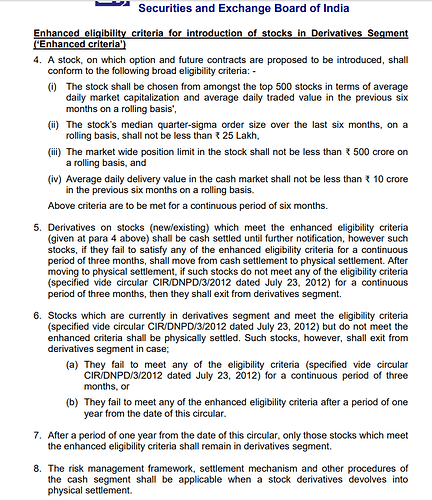 https://www.sebi.gov.in/legal/circulars/apr-2018/review-of-framework-for-stocks-in-derivatives-segment_38629.html