Can someone explain me, why its showing charges on order modification window?
I have attached the screenshot.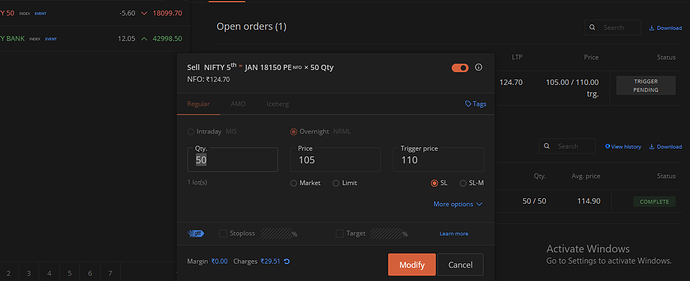 There is a latest circular from exchanges which mandates brokers to share charges breakup on the main terminal itself. Actually last date to implement is next month but think zerodha did it early.
This is a great move by SEBI because overtrading is one of the major problems of traders.
Will there be charges now even on modification ? I thought we were charged only on execution. I think SEBI does not want retailers to do anything in market.
No. No charges on modification. Just showing charges. adds to the transperency
You're not charged when you place the order. You're charged only when the order is executed.
The reason you're seeing that at the order modification window is because the charges change on the basis of transaction value. So, it's possible that when you placed the order, you may have seen Rs.30/- as charges but when you're modifying it, it may change to Rs.31/- if you had increased the value of your order.
@Suyash.K We can modify orders than without charged, we will be charged only if the order is executed ?
Am I correct ?
Yes, that's correct.
Zerodha has a limit of 25 as the maximum number of times an order can be modified. However, there are no charges until the order is executed.