Can i pledge ELSS funds after completing lock-in period??
Theoretically it should be possible. But practically no. Usually the pledging backoffice platforms have a blanket ban on pledging of ELSS funds as they can't figure which is more than 3 years or not. But I am adding this on our list of things to do.
@nithin has there been any update on this?
3 Year completed for even for to-do list


Any update?
A few days back, I had seen a tweet that mentioned about some of the ELSS funds being available for pledging. Currently, they have been removed from the list but likely might be added back. Maybe @Nakul might know about this.
https://twitter.com/VigneshEDGE/status/1401449267508637699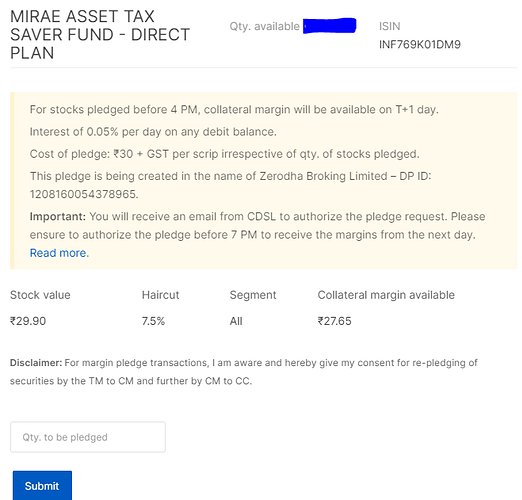 The issue with allowing ELSS pledging is that the units have to be free. Most of them will have it under lockin and the pledge requests fail in such cases at CDSL. This makes it harder for us to complete the pledge process faster. Hence, we've not allowed ELSS pledging for now.
Any update on this now?

Those who have ELSS and units are more than 3 years old, then atleast those guys can pledge. Why restrict them? Allow them.
@Nakul @ShubhS9 I am getting option to pledge ELSS fund (ADITYA BIRLA SUN LIFE TAX RELIEF 96) through CDSL site. if i pledge their will i get margin?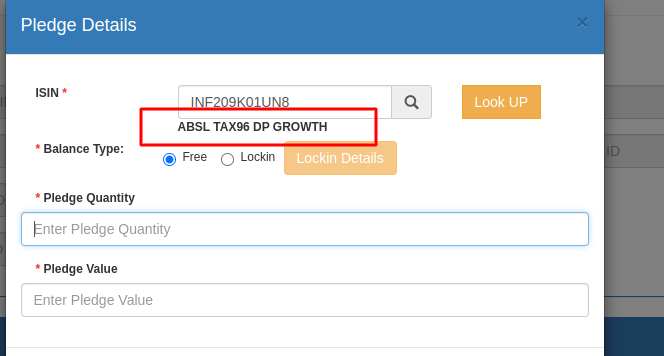 No, you won't get margin against such pledge requests since the security is not an approved one for margin pledge. These can't be repledged with the clearing corporation as well.
Also, what you are checking seems to be a regular pledge - LAS (Loan against securities), and not a margin pledge.
@Nakul is it allowed now?
I have pledged Mirae asset ELSS fund today thorugh zerodha console
@pankushri, was there any margin increase after pledging it?
I'd also pledged the same fund yesterday & then followed the usual authentication process on the cdslindia website. But neither did I receive any confirmation message (like 'pledge accepted by pledgee') nor any email. And the available margin is also the same as yesterday…
Nope, It did not get pledged. Even after submitting on CDSL. Hence ELSS can not be pledged.
Hello Zerodha team, any update on this? can we pledge ELSS funds to get margin for trading?
These are only allowed to pledge. Pledging is decided by clearing corporation not Zerodha.