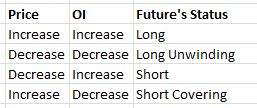 Let's say the Future of an index is in Long or Short Covering status.
Now this could mean two things:
Traders might have a directional upward move of the underlying index. Hence, they are buying future contracts.
Traders might be using the future to hedge against the underlying index as they think that the underlying might do down.
Am I missing something here?
I'm confused about this. Based on the Future's status (Long, Long unwinding, Short, Short covering), how can we know what is the market's sentiment about the underlying index?