It is imperative that we address one of the most important long-term financial goals- Retirement Planning. It is often ignored but has gained prominence once again amongst the working population.
A survey by Nielsen reveals that over 51% Indians who participated in the survey stated that they had not planned for retirement at all.
Rising medical costs compound to the problem. Retirement planning is essential to counter the effects of inflation and falling interest rates on your hard earned investment corpus.
Plan for your retirement with diversified equity mutual funds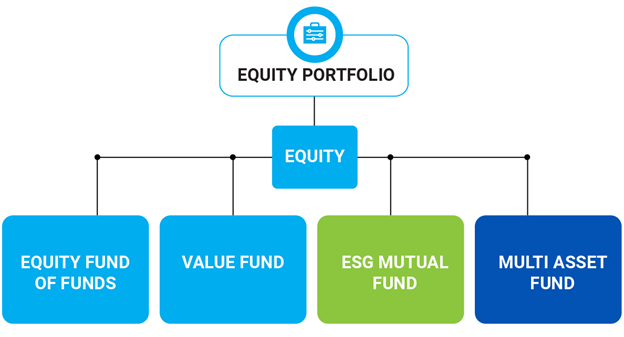 Diversified equity mutual funds help you get exposure to a sector agnostic portfolio, which may enable you to get risk adjusted long term returns.
Compared to other traditional retirement planning options such as a fixed deposit or insurance products, mutual funds may be risky due to market movements but can offer risk adjusted long term tax efficient returns.
Investing in Equity Mutual funds through SIPs
SIPs are the most favoured route of investment for anyone looking to build their retirement corpus in a systematic manner using mutual funds.
Here are five reasons why SIPs are a great way to begin your retirement planning in the new year:
1. Affordable for any wallet size:
With the minimum required investment being as low as Rs 500 per month, there is really no stopping anyone when it comes to starting an SIP. Just pick the fund(s) of your choice and start a SIP online!
2. No need to time markets:
SIPs prevent you from timing the market by averaging out benefits & investing over the long term across several market cycles.
3. Rupee-cost averaging:
When you invest a fixed amount of money at regular intervals with SIPs this ensures that you buy more shares of an investment when prices are low and less when they are high. This helps mitigate the market instability to some extent.
4. Benefit from the power of compounding:
Compounding in mutual funds refers to the returns earned on the profits from your investments. The longer you stay invested the more you benefit from SIPs due to the power of compounding.
Starting early ensures you to keep your SIPs smaller in size. The infographic here shows how starting early helps keep your SIPs smaller and helps to reach your goal in a disciplined manner vs a 40-year-old who needs to invest Rs. 25,000 monthly instead, at an assumed rate of return of 10%.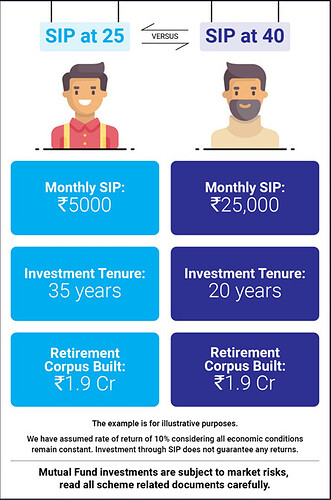 The example is for illustrative purpose only.
5. Develop financial discipline:
SIPs can enable financial discipline effectively which is useful for many investors who fall short of meeting their financial objectives because they lack the regularity required to develop a wealth corpus.
Having a diversified equity portfolio will help you to meet long term retirement goals comfortably. An SIP is the easiest way to invest in mutual funds.
Remember that no matter which phase of life you are in as an investor; financial preparedness is no longer optional but critical.
Please note that the above is the suggested fund allocation only and is not to be considered as investment advice / recommendation, please seek independent professional advice and arrive at an informed investment decision before making any investments
Disclaimer: The views expressed here in this Article / Video are for general information and reading purpose only and do not constitute any guidelines and recommendations on any course of action to be followed by the reader. Quantum AMC / Quantum Mutual Fund is not guaranteeing / offering / communicating any indicative yield on investments made in the scheme(s). The views are not meant to serve as a professional guide / investment advice / intended to be an offer or solicitation for the purchase or sale of any financial product or instrument or mutual fund units for the reader. The Article / Video has been prepared on the basis of publicly available information, internally developed data and other sources believed to be reliable. Whilst no action has been solicited based upon the information provided herein, due care has been taken to ensure that the facts are accurate and views given are fair and reasonable as on date. Readers of the Article / Video should rely on information/data arising out of their own investigations and advised to seek independent professional advice and arrive at an informed decision before making any investments. None of the Quantum Advisors, Quantum AMC, Quantum Trustee or Quantum Mutual Fund, their Affiliates or Representative shall be liable for any direct, indirect, special, incidental, consequential, punitive or exemplary losses or damages including lost profits arising in any way on account of any action taken basis the data / information / views provided in the Article / video.
Mutual Fund investments are subject to market risks, read all scheme related documents carefully.