Positives:
All around risk-on mood
FIIs bot heavily after weeks of selling
Fear-Index, VIX continue to fall globally
Negatives:
SGX Nifty is hesitating and trading flat
No India specific macroeconomic positives
Global Markets: - Break out
Global heavy weights such US Dow Jones, S&P, German Dax broke out of sideways range yesterday with solid gains. The US, European futures are trading in positive territory this morning in Asian session indicating that yesterday's break out will likely to hold ground. Volatility index has been trending down for a while. Safe haven assets such as gold and USD are down and trading near bottom of recent range. MSCI Emerging market ETF trading in US closed with solid 2+ % gain yesterday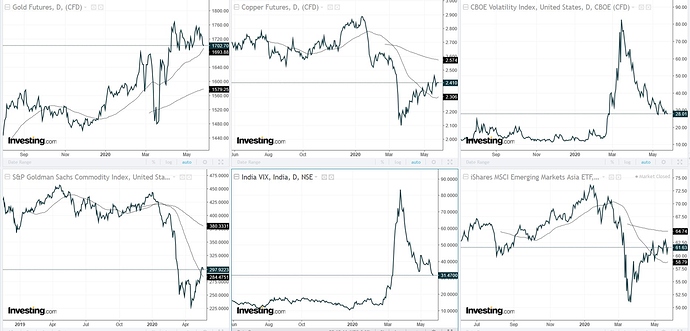 ASIAN Markets this morning: - Positive
Asian markets are following global markets. Most of the indices are trading in positive territory except some Chinese indices owing to Hong Kong related political risks. One notable exception is SGX Nifty. Its hesitating to move up and is almost trading flat comparted to yesterday's Nifty close.
Calendar events
Fiscal deficit, GDP and Infrastructure output numbers will be out on this Friday (29-May)
India : Are FIIs back?
FIIs bought in cash market for Rs. 4.7 Crores after days and weeks of selling and India-VIX continues to fall. There is no macroeconomic positive trigger for India stocks. However, risk-on global mood should help Nifty go higher Possibly towards 9400. Indian Rupee have strengthened in overseas market and trading at 75.45 Vs yesterday's close of 75.86.
Result announcement:
Sun Pharma, Ujjivan, Dabur, KPITTECH are announcing their quarterly results today.
NIFTY -Technical Bias: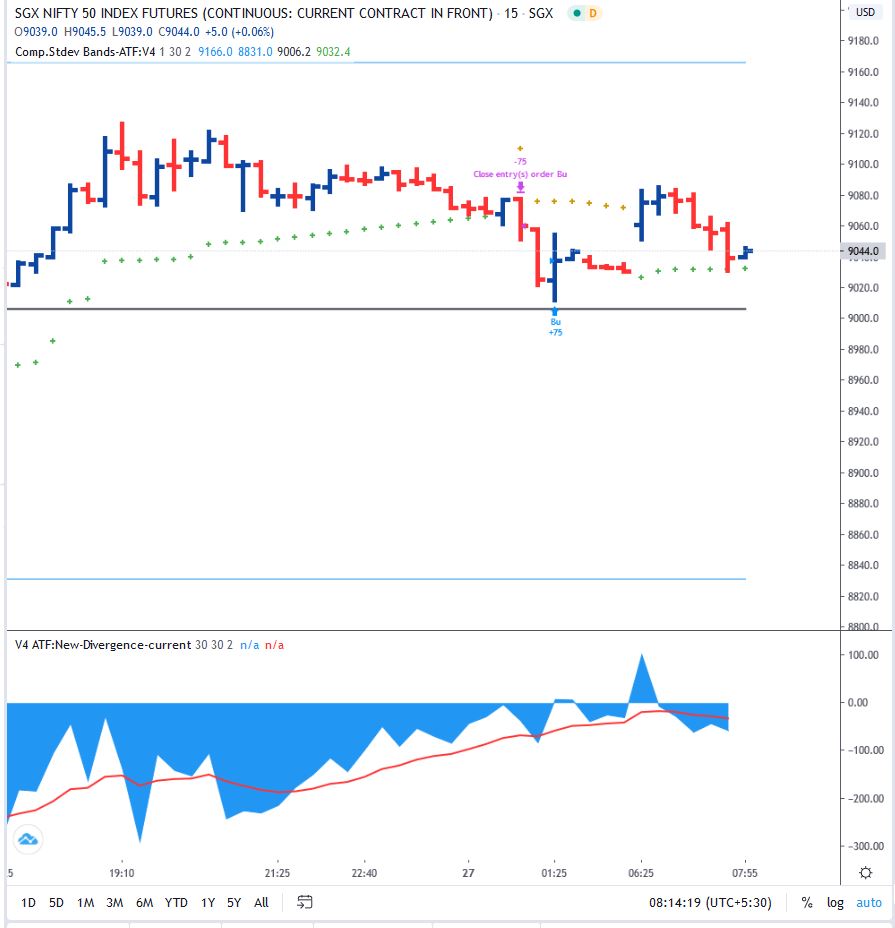 Price Action & Pattern:
Although SGX Nifty is hesitating at the moment, I expect Nifty to trade in positive territory. Nifty is bouncing off from range bottom of 8800 and I expect it to go towards the range top that is around 9550
Hopefully FIIs will continue to buy and wont sell at pull back and spoil bulls' party.
For further details click HERE You may follow me at Twitter handle: @TraderVenk
Disclaimer: Author is not responsible or liable, directly or indirectly, for any form of damages whatsoever resulting from the use (or misuse) of information contained in or implied by this posting. Thisshould not be relied on as a source of financial, investment or trading advice. What works for one individual may not work for anyone else. Always consult and check with your financial advisor.