Is there any way to apply the sma indicator on volume in kite…if yes then how…?
add volume chart indicator first (not volume underlay)
Then add MA
In the field option select volume
@maddy_Des,
You're a genius ! I had no idea we could do that (and I have been using Kite for some time now)

Here's a quick snapshot for your reference:
Cheers!
Neha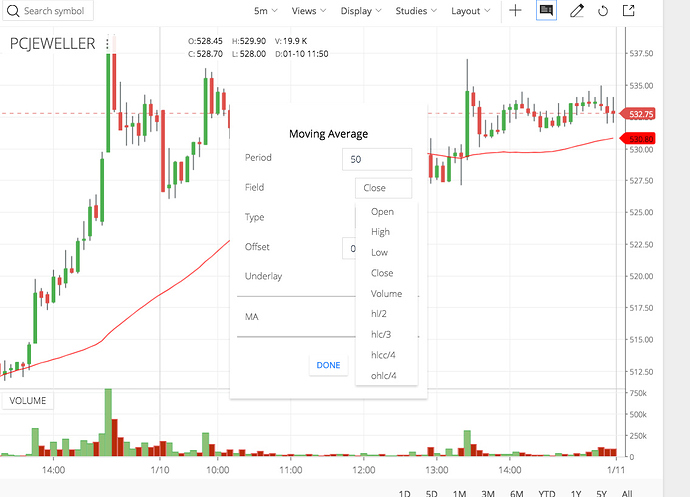 Thanks Mam,


Mam, I have asked you a question on other post. Plz reply
That post, yeah…some of the big shots had already replied there so I thought of sitting back.
My few suggestions are:
Trade both Index & Stocks: Index trading is good but you should also add trading in stocks to your strategy because there will be days (like today), where indices will pretty much do nothing whereas there will be solid moves in individual stocks (especially mid caps). And there will be days where stocks just chop around while index makes a dash.
Trade only highly liquid stocks -pick the most liquid ones so that you can get in and out of the trades quickly (below is the list of stocks that I usually trade). This is a long list so you might want to narrow it down to under 100
Think in terms of sectors- don't just see a stock in isolation. For example, when PC Jeweller is moving up, Titan will most likely have an uptick. Same thing goes with Pharma- when Sun Pharma gets an FDA approval, DR Reddy & Lupin will also move up.
Spend time with Charts - Keep analysing charts for your favourite stocks. You should have a good sense of how strong/weak the stock is, how much volatility does it usually gets, what are its major supports and resistances etc. You will not see the benefit right away but slowly these charts will set in your memory and the quality of your trades will improve.
There is so much to say on the questions you posted that it's really hard to answer all of that. I will emphasise what @nithin said : trader's mind is his biggest asset. Take a good night sleep and keep your mind fresh.
Market doesn't care how long we sit in front of the computers (unlike our corporate bosses )- all it cares about is our ability to identify opportunities and capitalise them- all while managing the risk.
Cheers!
Neha