Hi my name is Jithu Krishnan, i have recently started trading with zerodha. please helpme out a bit.
I initially deposited 50000rs in my account and i did a few trades in futures, first one was done in NRML mode and i kept it last night(since it was trading way low) and sold it today - bought at 144.7 sold at 146. and after that i made two trades today for small profits aswell. so the questions are twofold. please keep in mind that apart from some theoretical knowledge of stocks and shares, i am a complete newbie.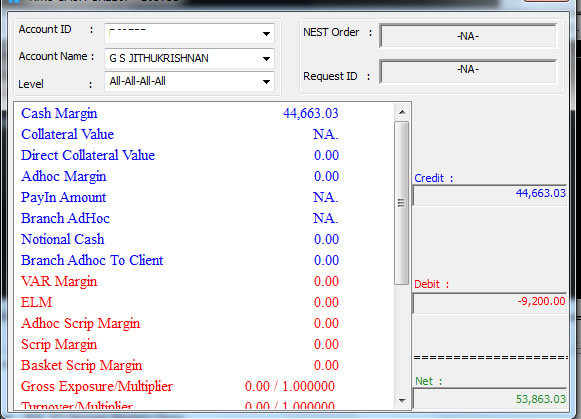 Q no. 1 What does this mean - do i have 53863.03 in my trading account or is it actually 44663 ( which means i am loosing money.)
Q no 2.  Consider this scenario - i bought rcom furutres stock 2000 lot for 144.70rs yesterday in NRML mode, however after that the share was going down and it was trailing around 141 something. so i didnt sell it and today morning when i checked out Admin posissions it was showing some 7900rs debit as M to M.  Does that amount signify the lowering of value of futures after i bought it yesterda ie from 144.7 it closed at around 141yesteray.
If so, today morning however i sold the lot successfully at 146rs, and i calculated using zerodha brokerage calculator here https://zerodha.com/brokerage-calculator. and it shows 2800 something profit.
Did i make actually that much profit or did yesterdays loss and resultant MtoM debit of 7900 actually bite into my profits and the result is rs 44663 as shown above ?
 Q no 3. If my account has rs 53863 as net then why is my cash limit 44663 ?