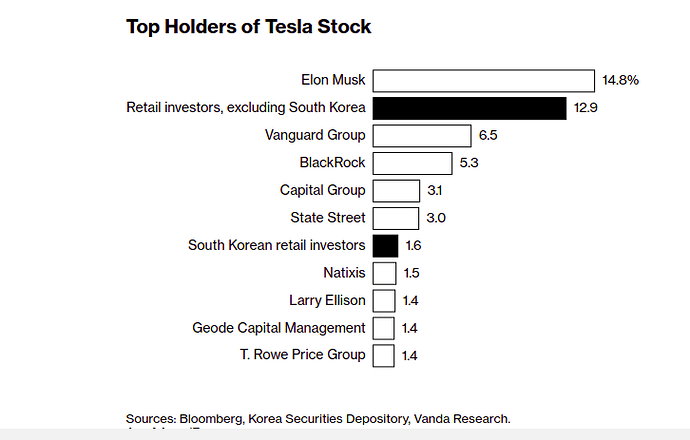 https://www.bloomberg.com/news/articles/2022-08-23/tesla-tsla-stock-price-inspires-elon-musk-fervor-in-korea
read this one out : crazy stuff
People can be crazy. Once your mind is set and greed/hope is activated all counter views get ignored and respect for risk goes away. I have been guilty too once long ago, but i only put a fraction of my money …
If it works out, we will hear success stories and deep regret among those who thought about buying but did not and then they will make mistake elsewhere. If it does not work, people will cry for protection from regulators and govt …
I do feel its irresponsible of Musk to not discourage cult like behavior around him …
Yeah… Sadly but that's true for any worshipped public figure whether Celebrities, Politicians, CEOs or Sport Stars.
These people of Powered by their Followers. So they would never get involved in educating their blind followers. For them blinder the Better…
Once the frenzy is over, these people are worst affected. If economy takes a plunge, may be these people would loose ownership of their house. This is not something new, people did lost their home in 2008 Financial Crisis when they took a look to buy multiple homes by taking loan on either house they completely owned or multiple loans on single property. Levereged Investing is fastest way to loose our money…
rarely have we seen stocks do well where retailers flock in like crazy.
Let's see who will win at the end, who will get the chance to say 'I told you so'