This is the excerpts from my morning market view that is posted early in the morning in my blog.
Click HERE to view details. Follow me on TWITTER for regular intraday updates
Positives:
Global heavy weights continue to go up after range break out. Other major global indices are also on the verge of break out
Global economic stimulus tops USD 7 trillion as per IMF
VIX indices are dropping fast globally
Negatives:
No volume support on Nifty strong pull back yesterday
India is distracted by growing fiscal deficit
Global Markets: - Flood of USD 7 trillion lifts all boats
IMF estimates that total stimulus announced so far is USD7 trillion and supposedly that does not include India's mega package of Rs.20 lakh crores. This kind of unprecedented stimulus and central banks' implicit message that they will buy everything that is on sale has calmed the nerves in the market. I am beginning to suspect that flood of money hitting the stock markets across the world could create a buying panic.
Global heavy weights US Dow Jones, S&P, German Dax, Japanese Nikkei all continued to go up for second day after range break out. The other global indices such as CAC and FTSE are on the verge of break out. The Futures of US and European indices are up this morning in the Asian trading session.
Volatility Indices are accelerating towards downside.
ASIAN Markets this morning: - Stays strong
Almost all of Asian markets are trading in green barring Hang Seng Index. SGX Nifty index was down more than 100 points yesterday night has regained bullishness this morning and currently is trading with about 40 points gain comparted to yesterday's Nifty close.
Calendar events
India's Fiscal deficit, GDP growth and infrastructure output numbers will be released by tomorrow after market closes. Purchasing Manager's Index will start flowing from June 1.
India : -Thanks for the global sentiment but watch out for volatile moves
The global risk on mood is helping Indian markets to go higher. However, markets strong up move are not supported by volume. This shows that up move is based on global sentiment. Without a local positive triggers rally is at the risk of quick reversal if risk-on sentiment turns sour. The other problem this low volume market brings us is that the move both on upside and downside could be sharp.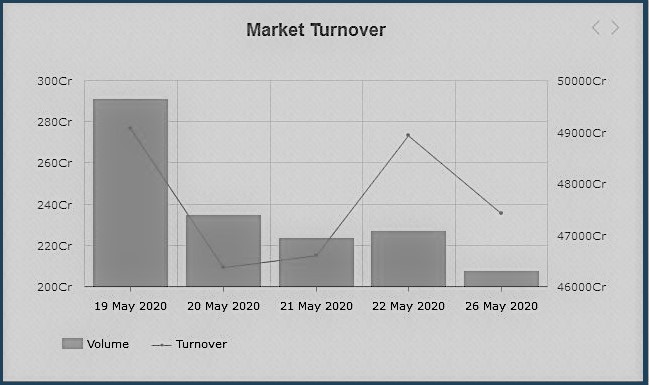 FIIs net sold small amount of Rs334 crore yesterday in cash markets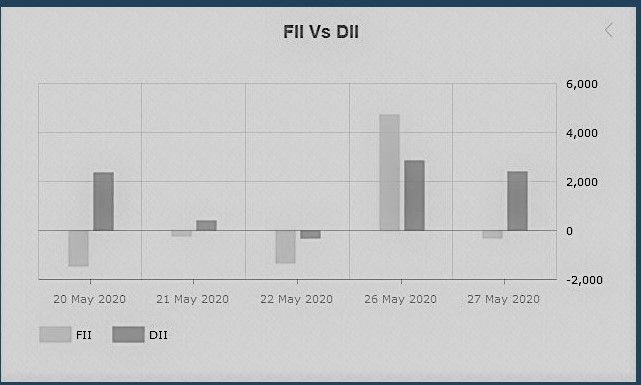 Result announcement:
Federal bank, Lupin, Muthut finance, TVS motors will announce their results today
NIFTY -Technical Bias:
Price Action & Pattern: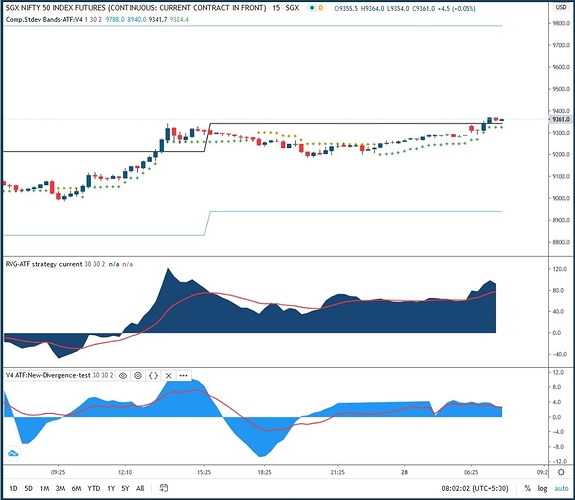 The strong up move yesterday is likely to hold. Since the volumes are low, traders should brace for volatile spikes and pull backs while the indices approach the range top. Don't forget the monthly expiry brings its own volatility
Disclaimer: Author is not responsible or liable, directly or indirectly, for any form of damages whatsoever resulting from the use (or misuse) of information contained in or implied by this posting. Thisshould not be relied on as a source of financial, investment or trading advice. What works for one individual may not work for anyone else. Always consult and check with your financial advisor.