This is a topic very close to my heart & I cannot emphasise enough on this… Only someone who has gone through that pain will know & understand. The good people at Finshots have highlighted this perfectly. Far too many of us take this lightly and procrastinate. Spare a thought for your loved ones.
"It's no good being a good money manager if you haven't safely kept a record of your investments and insurance.
it's always good to be transparent about your savings, insurance buys, investments, loans and credit cards with your family. And keep relevant documents like policies, investment certificates, nomination forms, tax returns and loan statements neatly stacked in a damage-proof physical folder".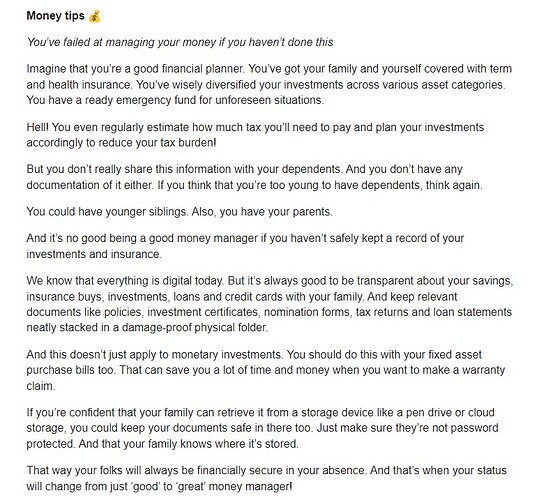 Do check this out: https://finshots.in/archive/sunny-side-up-oscars-swiggys-cloud-kitchen-exit-a-sweet-financial-habit/
P.S: I am a huge fan of their daily newsletters - well-picked topics, the story format, the insights, the simplicity & the writing style -crisp yet data packed… And all this for FREE!! Shoutout to the amazing guys at Finshots.
In case you haven't, you can subscribe to the free newsletters here: https://finshots.in/