COMING SOON COMING SOON COMING SOON.




The new changes are really awesome. I especially like how they managed to keep the orders and positions tab on the same screen yet provided the option to minimize when not needed. In the earlier version the chart area used to be squished and made it tough to read.
I hope Zerodha can copy that feature without compromising the chart area.
Also its good they got rid of the dark blue theme. It was horrible.
So much so, but still no Trading from Charts.
yes option chain looks nice.
Dont worry. It will be coming soon. In their list of PRIORITY TO DO. But ultimately you know well what COMING SOON means.



Upstox is now showing toungue dance to Z what they have not been able to achieve in last 2 years.

Zerodha is still the best among discount brokers. I tried both Upstox and Aliceblue.
AliceBlue platform is a Zerodha lookalike but horrible customer service. I closed the account within a week.
Upstox need to improve their fund withdrawal time. A withdrawal request today gets actioned next day post 2pm.
I might give it a try now that they made some serious improvements.
I have an Upstox account too, the fund withdrawal is really good, imo.
Suppose I sell some shares today (eg. Monday), I can place a withdrawal request on Wednesday morning, and if I place the request before the cutoff time of 8 am, I get them at max by 2 pm (though I always get them before 12 pm).
In this way, they are better than Zerodha. After selling shares on Zerodha on Monday, I can place a Withdrawal request on Wednesday, but that gets credited to the bank latest by Wednesday night.
Though for the limited time I have been a customer of Upstox, I am not happy with their uptime, their service went down several times in the last two months, maybe due to the increased volatility, but Zerodha was working fine with minor hiccups while having more than double the active clients.
Until Zerodha do it you can have alternate account on fyers.
Hai guys just i request in KITE 3 thread about upstock
see this zerodha is not listening the client request , we need inbuild option chain - we need to trade from option chain itself , its really helpfull for expiray day trade ,
finding every strike premium is very diffcult for us in expiray day ,
the new design of upstox is welome in the brokerage industry , most of the people request are fulfilled by upstox thanks for upstox team ,
Zerodha is only lazy in brokerage industry , in upstox witdraw request or ontime i really appreciate that ,
The Reason i like Upstox 3.0 are
1- Inbuilt watch list
2- Inbuilt option chain - trade from option chain is very usefull for expiray day trade
3- Inbuilt strategy builder
4- Tick by tick and speed web based trading platform in Beta version
5- Dark and white mode
6-Notch and sleek beta design i love it
7-Holding and orders tab in down side easy to to track
Above is nothing in kite 3.0
Soon i will merge with upstok
SEBI is imposing hedge margin beneft in June 1 - first broker in india changed a full web platform before the SEBI changes in hedged margin benefit
i love it
@siva @nithin the above 7 points is not in KIte 3 note it , its really hard for me to trade expiray day trade in kite to find the strike and premium without option chain in the live market
upstox also coming USA investing without charge and commision
i will wait till june 1 inbuilt option chain not available i will merge with upstok @siva please tell me how can i transfer the shares to upstox demate account
Never say VERY SOON – or COMING SOON or ON THE WAY
Time to test the taste.


Sometime ago, i wrote to @nithin and @siva with below URL but they delisted the thread. Now it is meaningless. Z, you are on the roll now.

4,6 are not relevant, 5. Dark mode on web will take sometime,2- option chain is already there.
3. we are working on this.
Can check this.
@siva common man its not option chain in kite its option box - see in upstox inbuild option chain its very usefull for expiray day trade , in kite its option box only 5 strike is there , and you are routing with sensibull , its taking time also . what problem for zerodha to make a full option chain in kite , see the video in upstox how they build option chain , its really important for option trader yaar, bank nifty 5 strike price what we can do in expiray we are selling 800 points + in bank nifty in expiry day
finding strike price and premium in market hours is very diffcult for us , lets understand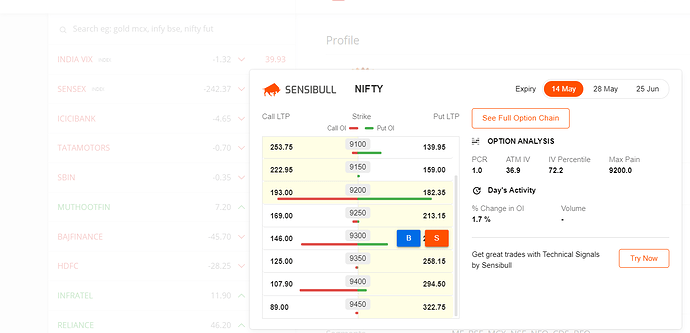 We are continuously adding features to our platforms let it be our trading application (Kite), mf platform(coin), back office (console), our support desk and trying to improvise the way how we communicate with clients, trying to educate new users (varsity) with one and only aim and that is customer satisfaction. Said that for end user what matters is stability, features(UI/UX),pricing and we are aware of it.
Yes, few features which we promised are delayed due to unprecedented changes in regulations over last 10 months and due to current covid times but we will come out with them.
Yesterday we released GTT on web for F&O, soon will release margin check on kite order window itself, followed by trading from charts along with new exciting indicators. Baskets will come, spread order windows will come and many more . US investing is also delayed due to current situation as we need few regulatory approvals and they kept us on hold. We have many other exciting things lined up.
I am not trying to convince but just letting you know what we will be doing in coming couple of months. End of the day best product should win and will win, the product should speak for itself.
Happy trading.
Trading from chart is the need of the hour coupled with stable platform.
But after how long the "Couple of months" will come? Will it be after 6 months or 1 yr or Couple of years? Trading from Chart feature is pending since very very long time? I hope you have not put this feature in your 5 Year plan.
I request Inbuilt Opton chain when i am Young