I am doing in USDINR intraday trading last 2 week proper money management but not profit can I do continue
Since last two weeks USD inr is sideways or direction less so do wait for trending move . Although USD inr behaves bizzire sometime.
the only way to be profitable in intra day is by not doing intra day. good luck.
Currency usually doesnt move for weeks, then moves suddenly so much that lot of traders capitals are wiped out
Try it for few more weeks, and make your decision
For me I decided its waste and went back to Equity FNO lol
Its better to avoid " Intra day trading in USDINR , in my experience " Positional trading " in USDINR is profitable
please provide tip for positional. will it go up or down side ? USDINR
I am not supposed to do so & i am not interested to provide tips , Only i can suggest ,that , since Currency trading requires less capital compare to Stock/index derivatives , learn option writing in USDINR and also learn TA & money management , From last September month, USDINR is in a trading range ( between 70.5 to 72 range , most of the currencies trade in a range only ) Its really a difficult task to trade a trading ranges , its a double edged sword If you learn theses things especially managing risk & money management , i am sure you will be profitable in future.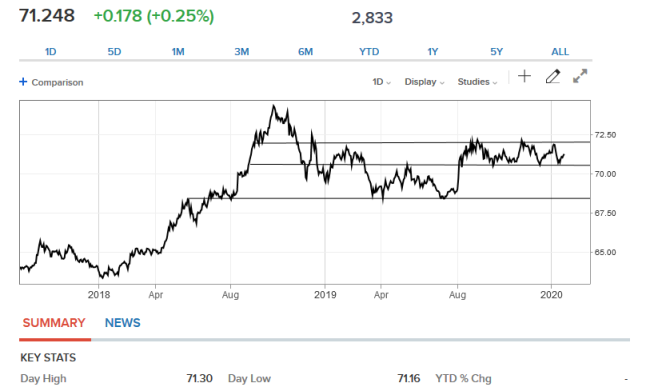 ,
Intraday in currency futures won't be profitable, I'm doing paper Intraday Trading with Currency Options (USDINR) and so far it does seem like it will be profitable compared to trading in futures, all I'm doing is executing strangle to profit from time decay. Let's see how that goes in long run.
Is Short Straddle or strangle profitable in USDINR? I am thinking to start… Can you please guide? Advance thank you