Historically, Death, default, or divorce has been some of the major reasons for Billionaires to see a downfall in their fortune. Looking at the events that occurred in the past, it appears high valuations of their companies have added to the list of the existing risk to their wealth.
Recently, due to a fall in the earnings of Meta, shares of Meta Platforms Inc. Plunged over 26% down in a single day which led to NASDAQ fall by over 2%. The fall wiped more than $200 billion of the company's market cap.
Over the company's fall, Mark Zuckerberg, the co-founder's wealth took a dip by almost $30 billion. With a current net worth of $84.3 billion as per Forbes, it was for the first time since 2015 that he has not been in the list of one of the 10 richest people in the world. According to Bloomberg, this is the third biggest one-day drop in wealth since the Bloomberg Billionaires Index started compiling this data in 2012.
Along with him two of his co-founders, Eduardo Saverin and Dustin Moskovitz lost $4.6 billion and $3.1 billion in fortune, respectively.
A one-day wealth loss of over $30 billion would rank as the second-biggest ever caused by a share-price decline, only rivaled by the volatile swings in Elon Musk's fortune.
In November 2021, Elon Musk lost nearly about $35 billion after he tweeted about selling 10% of his Tesla stake.
This kind of wealth dripping was previously also witnessed in Jeff Bezos's divorce in 2019 where he announced that he will give a 4% stake in Amazon to his ex-wife, which was estimated to be around $35 billion in worth making it by far the largest divorce settlement in history and Bill Hwang, who ended up losing $20 billion over a span of 2 days when his family company Archegos Capital Management had defaulted on loans used to build a $100 billion portfolio.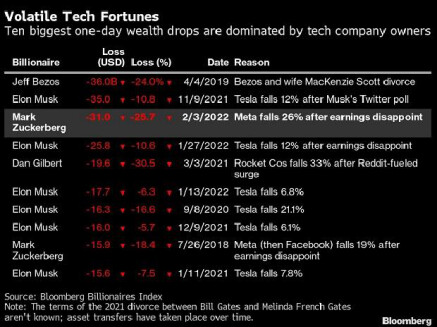 Though, they are still capable to add back to their fortunes, the thing to note here is, apart from the already risk associated to the wealth of the billionaires, high valuations have also marked its place in the list.
Do share your views if you think that high valuations are a risky bet for the big players.
Source: Bloomberg.