It's that time of the year again. The demand for gold strengthens during Diwali-Dhanteras, when Indians consider it auspicious to buy gold. This is a cultural practice rooted in age-old tradition. While the traditional way of buying gold encompasses physical forms primarily such as coins, bullion, jewelery, etc. It's time to marry tradition with the newer, more price-efficient, liquid and convenient forms of investing in gold. Here is a terrific two-in-one offer that investors absolutely do not want to miss this festive season; Gold Fund of Funds.
Investors have long preferred SIPs due to the discipline & convenience it offers.
Added with the benefits of investing in a Gold ETF this offers a Double Dhamaka like no other!
What are Gold ETFs?
Gold ETF is an exchange-traded fund (ETF) that tracks the domestic physical gold price. They are passive investment instruments that invest in gold bullion. Gold ETFs trade on the cash segment of BSE & NSE, like any other company stock. They offer investors a means of participating in the gold market at low denominations.
Gold ETFs combine the flexibility of similar to stock investment and the simplicity of gold investments. When investors redeem Gold ETF, they receive the cash equivalent.
What are the advantages of Gold ETFs?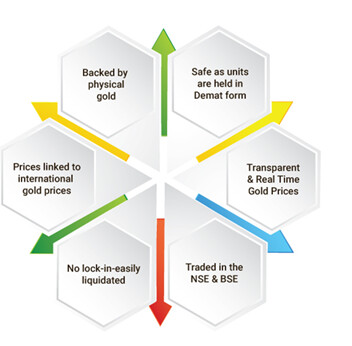 Related Article
Why are ETFs popular among first-time investors?
Starting a SIP with Gold ETFs has been of great interest to investors lately, especially its many conveniences and benefits.
This is nothing but a Gold Fund of Funds. Investors can start an SIP in Gold ETF that allows them to take advantage of the benefits of SIP that they would otherwise use to invest in Equity mutual funds or Debt schemes.
The biggest draw with Systematic Investment Plans (SIPs) for investors is that it develops a good investing habit that lets investors invest a portion of their income each month, and builds up their investment. Starting an SIP in Gold Fund of Funds does not need investors to open a DEMAT account.
Here are some of the top benefits of starting an SIP in a nutshell:
1. Easy on the wallet: SIP breaks down the investment into smaller amounts, making it easy on wallet size.
2. Instills discipline : SIPs help develop the financial habit of setting aside an amount from one's income each month to grow their investment corpus
3. Power of compounding: SIPs utilize the power of compounding when investors invest for the long term. The profits that investors receive may accumulate and adds to the principal amount invested and keep growing the investment corpus.
4. Rupee cost averaging: SIPs help investors enjoy rupee cost averaging. So, when the markets are down investors can buy more number of ETF units at lower prices. Conversely, when markets rally, a lower number of units may be purchased from the SIPs. This makes investments cost-efficient.
5. No need to time the market: Investors do not have to worry about the right time to enter or exit the market. When investors stay invested through SIP in a Gold Fund of Funds, it helps average their cost of investment. Starting an SIP in a Gold ETF allows investors to combine benefits from active management + passive investment that can grow in any market condition.
How does it differ from other financial forms of holding Gold?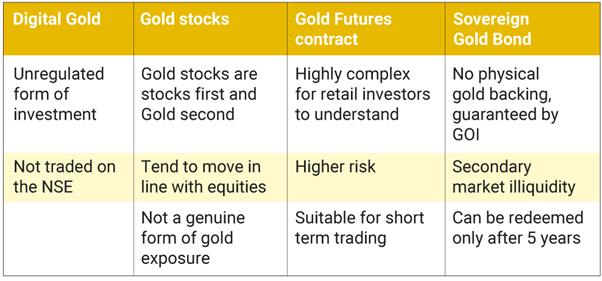 Gold vs Bitcoin: Which is better?
As the leading cryptocurrency, Bitcoin has been fast emerging as an alternative to Gold and has given better returns. However, Bitcoin is similar to Gold in several ways; like gold, there is a limited amount of Bitcoin and there is a weak relationship with other assets, especially stocks. Also, as far as liquidity is concerned, both are easily liquidated.
Things to consider:
Regulation: Based on legality, transparency and safety, cryptocurrency ranks below Gold.
Volatility: Bitcoin is relatively more volatile than Gold.
Support from central banks: It is not endorsed by several central banks, whereas Gold is the ultimate currency of central banks.
Thus, investors looking for a more liquid, flexible, regulated and cost-effective option can consider investing in Gold Fund of Funds.
How much should you invest?
The exact allocation will depend on each investor's specific goals and risk profile, but anywhere upto 20% can still be considered in Gold ETFs and Gold mutual funds that have underlying investments in Gold ETFs.
Gold as an asset class has generally an inverse correlation with equity markets. When there is stress in the equity markets, this benefits Gold. This is what we saw during the Pandemic-induced market crash early in 2020. Investors who diversified their investments in a combination of assets (Equity+ Gold), saw a lesser downward pressure than investors who were solely invested in stocks, equity ETFs, or equity mutual funds. During the bull run as markets face minor corrections, it may be times to revisit one's allocation to the risk-reducing portfolio diversifying properties that Gold has to offer. In times market uncertainty, gold tends to hold its value and hence is recommended in long term portfolios.
Gold also has potential to offer inflation adjusted returns. Gold prices have historically been in line with inflation. As per the World Gold Council, for each 1% increase in inflation from 1990 to 2020, Indian gold demand increased by 2.6 thus offering a better potential to generate risk-adjusted returns in line with the rate of inflation. After the rally in equity markets, investors are wary of downside risks. Allocating 20% in Gold will enable investors to bring diversification and reduce downside risks in a portfolio.
So, brighten up your Diwali the innovative & cost-effective way with Gold ETFs and Gold mutual funds.
Disclaimer: The views expressed here in this Article / Video are for general information and reading purpose only and do not constitute any guidelines and recommendations on any course of action to be followed by the reader. Quantum AMC / Quantum Mutual Fund is not guaranteeing / offering / communicating any indicative yield on investments made in the scheme(s). The views are not meant to serve as a professional guide / investment advice / intended to be an offer or solicitation for the purchase or sale of any financial product or instrument or mutual fund units for the reader. The Article / Video has been prepared on the basis of publicly available information, internally developed data and other sources believed to be reliable. Whilst no action has been solicited based upon the information provided herein, due care has been taken to ensure that the facts are accurate, and views given are fair and reasonable as on date. Readers of the Article / Video should rely on information/data arising out of their own investigations and advised to seek independent professional advice and arrive at an informed decision before making any investments. None of the Quantum Advisors, Quantum AMC, Quantum Trustee or Quantum Mutual Fund, their Affiliates or Representative shall be liable for any direct, indirect, special, incidental, consequential, punitive or exemplary losses or damages including lost profits arising in any way on account of any action taken basis the data / information / views provided in the Article / video.
Mutual fund investments are subject to market risks read all scheme related documents carefully.