A thread for discussing all your trades, strategies, ideas, news, stories, etc.
---
A quick look at what the markets were up to in the week gone by;

Sensex and Nifty snapped a three-week winning streak and closed the week ended 10 June in red, with Sensex falling by 2.63% and Nifty by 2.31%.
On the sectoral front, Nifty Auto was the only sectoral index to end the week in green. The IT, Metal, Media, FMCG and Nifty Bank were the top draggers, each sliding over 2%.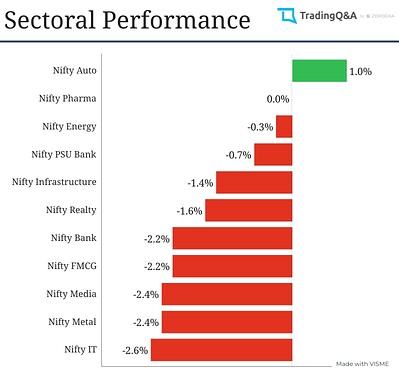 ---
US markets saw a sharp sell-off on Friday following the latest inflation numbers. The inflation in the US hit a new 40-year high surging to 8.6%. For the week, US markets tanked between 4.58% - 5.6%. Here's how the major indices around the world fared.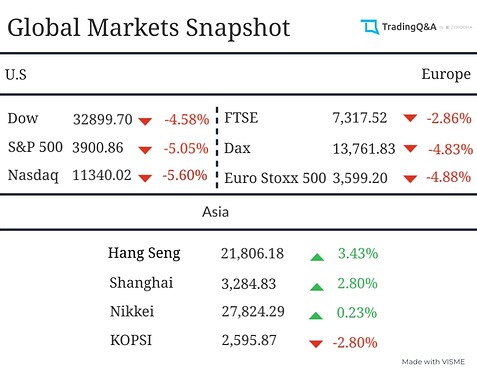 ---
Things to watch out for in the coming week;
The coming week is full of key macroeconomic events. India's CPI Inflation figures will be released on 13th June, while WPI Inflation will be released a day later on 14th June.
The key event of the week will be the Fed interest rate decision. The FOMC (Federal Open Market Committee) will be holding its two-day meeting on the 14th and 15th of June. Along with this interest rate decisions of the Bank of England and Bank of Japan too are expected on 16th and 17th June.
Here are all the key macroeconomic events to watch out for:
| | 13th June | | 14th June | | 15th June | | 16th June | | 17th June | |
| --- | --- | --- | --- | --- | --- | --- | --- | --- | --- | --- |
| India | CPI Inflation (MAY) | India | WPI Inflation (MAY) | US | Fed Interest Rate Decision | UK | BoE Interest Rate Decision | Japan | BoJ Interest Rate Decision | |
| | Industrial Output | US | PPI (May) | | Retail Sales | US | Jobless Claims | Eurozone | CPI Inflation (MAY) | |
| | Manufacturing Output | | | | Crude Oil Invntories | | | US | Fed Chairman Powell to speak | |
| UK | Manufacturing Production (APR) | | | China | Industrial Production (May) | | | | | |
| | GDP Estimates (QoQ) | | | | | | | | | |