A thread for discussing all your trades, strategies, ideas, news, stories etc.
How is this week going to be like ?
Could be a volatile week.
S&P was down friday. SGX down 100+ on friday night. last 8 days trading down.
US Democrats not able to pass the $1 trillion bill. So they may give signal to the Gang (GS,JPM,BOA)to crash the market 10% minimum to make all the senators come in to agreement due to hue & cry Media circus. We are just collateral damage .
Emerging market down last 8 trading days .
Wonder Boy India was an exception. If FII sell big, we will correct.
Metals ,materials under pressure due to china effect.
banks are the only place to hide (wont fall as much or bounce faster)
Iron ore from $200+ a tone to 100$ /tone at SGX due to china Evergrande effect. Look out metal complex. (aluminium,copper less vulnerable)
Nifty Index (not future) 17300 not ruled out on Monday itself. 17000 is a outlier event but not impossible. Buying all deep pull backs may work till does not
.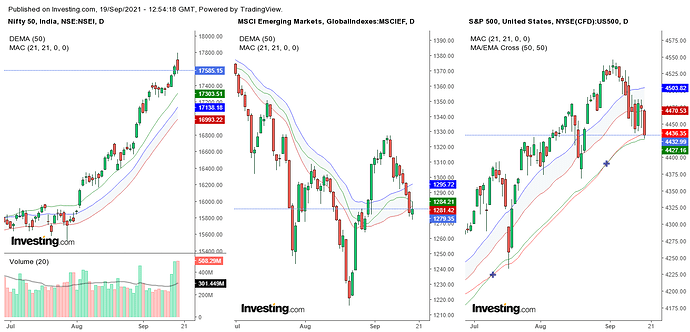 Wow, that was detailed explanation. Looks like you can create a post every week / day for sharing this insight.
Thanks for sharing @brokenbull
Banks and Auto mobile can sustain in this week. (probably)
Has zerodha allowed users, to express their trading views?
Is it needed to to clear that, why some one is bullish/bearish with sharing strategy?
previously i thought that it is not allowed to share views on this forum, which may mislead to readers, & may cause loss.
waiting for more clarification from moderators, like you & @siva.
thanks
Is that a rule here ?
What's wrong in sharing our views tho ?
This is just a forum and this post is created to share our views/ideas/doubts/questions etc… right ?
I wonder how that happens. Who on earth will take a position based on some random views from strangers in this forum ? Its just sharing idea/view and there is nothing wrong in that.
You could have replied all 3 in one post, please follow that.
Selling tips/ posting links is not allowed, giving personal view and reason is absolutely fine.
Nikkei 225 out performed Indian markets.
Thank you very much for clearing my doubts.
Yes.I forgot.
In India if Rupee becomes weak,BankNifty falls .
But in Japan if yen becomes weak (US$ becomes stronger)all big congolomerates (all net exporters) rise & the Nikkei index goes up. **also due to Japan political change (**PM offered to resign & new minister coming in as head of the ruling part & as PM)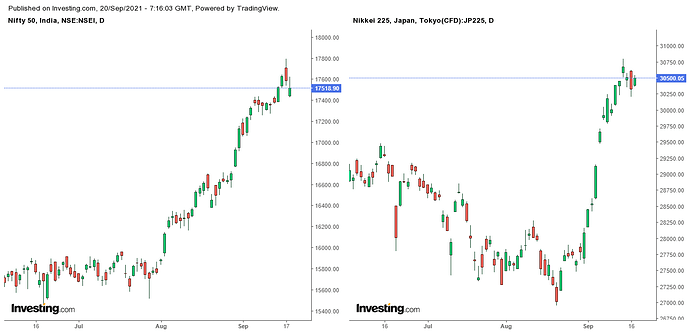 Breaking of 444 in SBIN fut , & 2754 in HDFCfut will change my view to bearish for coming 4-5 sessions.
no personal positions taken in above stocks, sharing as only edu purpose.
12-13 central banks around the world have their meetings this week.
$1t infra bill got stalled but nothing major to change the longer term trend which is up according to me.
Banks and realty should be under pressure.
auto, it and fmcg will stablize the market.
After a near about 2000 points linear rally from 15900 to 17800 and amid mixed global ques,
I think the market(Nifty50) will stay range bound this week from 17200 to 17700
Basically today (monday) is a mini blood bath in dalal street.