A thread for discussing all your trades, strategies, ideas, news, stories etc.
Last week was volatile, nifty not much but next 50 is over 6% down from its highs.
Also… this heat map is nice… which website?
Normally "Fundamentalist" find hidden gem stock in the stock market , i too was searching a gem stock , thanks to "Ticker tape " one can see on its page , one such stock which is making more profit then its "Revenue " consistently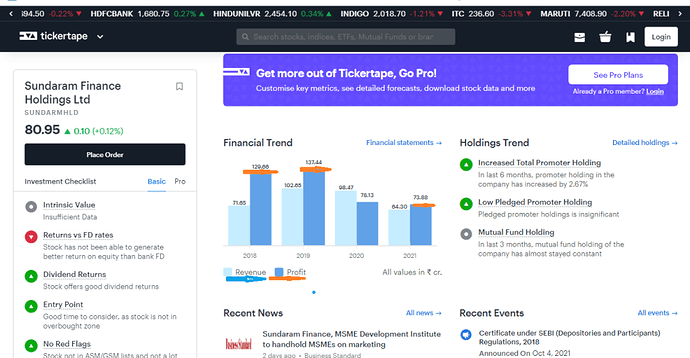 yea… that's pretty cool. Other websites also provide this data but not in a graphical form.
We need to find it from the data.
Nykaa, Fino Payments Bank and now Policy Bazaar… 3 big IPOs at same time…
Do holding companies ever get valued correctly?
If i get your query correctly , i do trade based on TA, not based on Funda"s, , For example TATA
Motor stock price & TATA motor DVR are priced differently , but both are chartically exhibiting the same characteristic. if i have to buy , i buy based on my available capital. after all be it trader or Investor goal is good earning from it.
You posted a pic from ticker tape. If you trade only on TA, then why look at revenue / profits etc ? (just asking)
Even I'm interested to know more about this.

You are asking me a bit late ,i posted it sarcastically. Just think how can a company post more profit than its revenue more then once, except for any of its property sale. I was thinking that there is mistake or wrong data presentation and some one willl comment on it. or correct it from Ticker tape"