A thread for discussing all your trades, strategies, ideas, news, stories, etc.
---
A quick recap of what the markets were up do in week gone by.

It was an intense week for equity markets around the world, caused by Russia's invasion of Ukraine which resulted in heavy sell-off in markets across the world. Though the markets did see a sharp rebound on Friday.
For the week, Nifty ended 3.6% lower while Sensex stumbled 3.4% following the week global sentiment as all the major world indices apart from Nasdaq and S&P 500 ended the week in negative territory.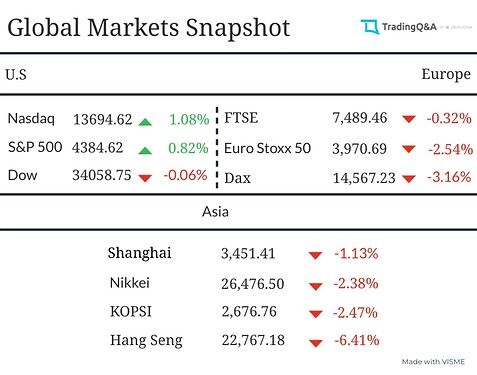 ---
All sectoral indices closed the week in deep red.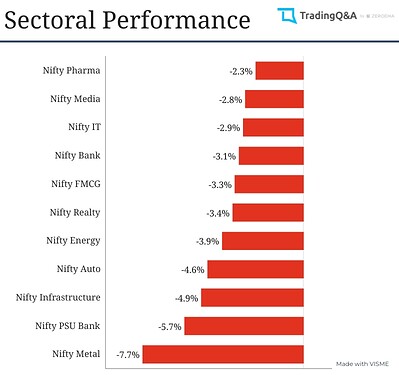 ---
Here's what the institutions have been up to: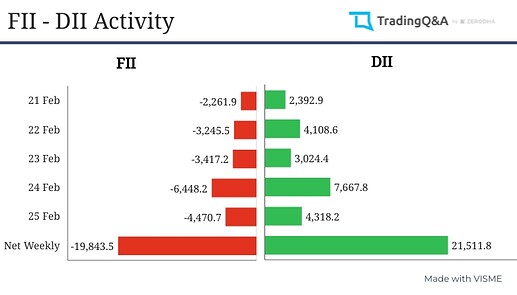 ---
Important economic events to watch out for in the week:
| | 28 Feb | | | 1 Mar | | | 2 Mar | | | 3 Mar | | | 4 Mar | |
| --- | --- | --- | --- | --- | --- | --- | --- | --- | --- | --- | --- | --- | --- | --- |
| India | GDP Q3 YoY | | US | ISM Manufacturing PMI (Feb) | | US | Nonfarm Employment Change (Feb) | | US | Fed Chair Powell Testifies | | US | Unemployment Rate (Feb) | |
| | Infrastructure Output YoY | | China | Manufacturing PMI (Feb) | | Eurozone | CPI Inflation | | | ISM Non-Manufacturing PMI (Feb) | | | Nonfarm Payrolls (Feb) | |
| Japan | Retail Sales (Jan) | | | Chinese Composite PMI (Feb) | | Britain | Annual Budget Release | | | Initial Jobless Claims | | | | |
| | Industrial Production (Jan) | | | Non-Manufacturing PMI (Feb) | | | | | | Services PMI (Feb) | | | | |
| | | | Japan | Services PMI (Feb) | | | | | Eurozone | ECB Publishes Account of Monetary Policy Meeting | | | | |
| | | | Britan | Manufacturing PMI (Feb) | | | | | | Services PMI (Feb) | | | | |
| | | | Germany | Manufacturing PMI (Feb) | | | | | | Markit Composite PMI (Feb) | | | | |
| | | | | | | | | | Britain | Composite PMI (Feb) | | | | |
| | | | | | | | | | | Services PMI (Feb) | | | | |
| | | | | | | | | | | | | | | |
---
What are you looking forward to in the coming week? Share below