Happy new year, folks!!
Hello and welcome to the weekly trading diary, a thread for discussing your trades, strategies, ideas, news, stories, etc.
---
---
A quick look at how the markets fared in the final week of 2022: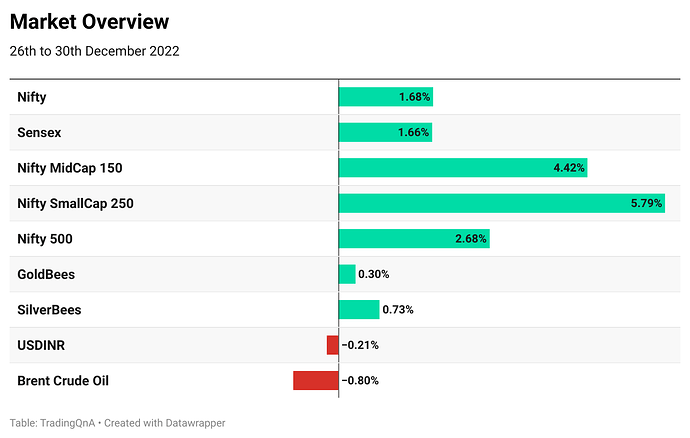 After falling for three consecutive weeks, equity markets bounced back in the year's final week. Nifty and Sensex both surged around 1.7% each. MidCap 150 and SmallCap 250 indices on the other hand surged around 4.4% and 5.8%.
---
Apart from minor cuts in Pharma and FMCG indices, all other sectoral indices ended the week in green. PSU Bank index being the top gainer, up over 11% for the week.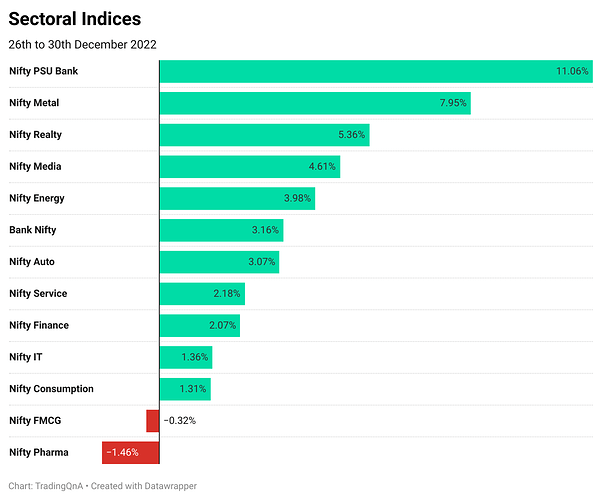 ---
---
Here's how the major global indices fared;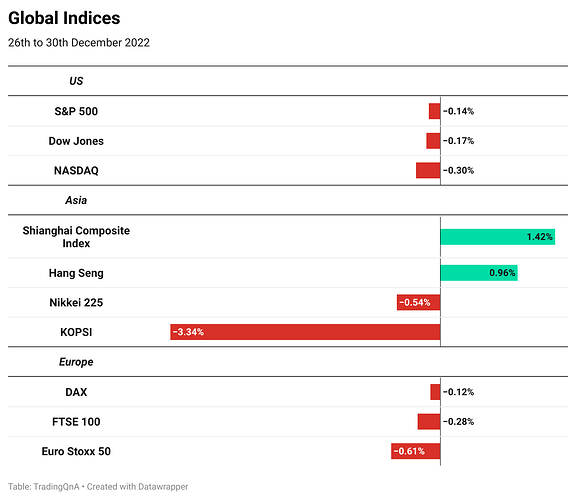 ---
---
Things to watch out for in the coming week;
| | 2nd January | | 3rd January | | 4th January | | 5th January | | 6th January |
| --- | --- | --- | --- | --- | --- | --- | --- | --- | --- |
| India | S&P Global Manufacturing PMI (DEC) | China | Ciaxin Manufacturing PMI (DEC) | India | S&P Global Services PMI (DEC) | China | Ciaxin Services PMI (DEC) | Japan | Services PMI (DEC) |
| Eurozone | Manufacturing PMI (DEC) | UK | Manufacturing PMI (DEC) | Eurozone | S&P Global Composite PMI (DEC) | UK | Composite PMI (DEC) | Eurozone | CPI Inflation (DEC) |
| | | US | Manufacturing PMI (DEC) | | Services PMI (DEC) | | Services PMI (DEC) | US | Unemployment Rate (DEC) |
| | | | | US | ISM Manufacturing PMI (DEC) | US | Non-Farm Employment Change (DEC) | | Nonfarm Payrolls |
| | | | | | ISM Manufacturing Employment (DEC) | | Jobless Claims | | ISM Non-Manufacturing PMI (DEC) |
| | | | | | | | Crude Oil Inventories | | |
| | | | | | | | Services PMI (DEC) | | |
| | | | | | | | S&P Global Composite PMI (DEC) | | |
What are you looking forward to in the week? Share below and join the discussion