Made no trade today. All my open long-positions are in red KNRCON, VEDL and SHK.
I don't understand this???
I got into KTK position again and squared off nifty 10600 pe. Final positions as of today.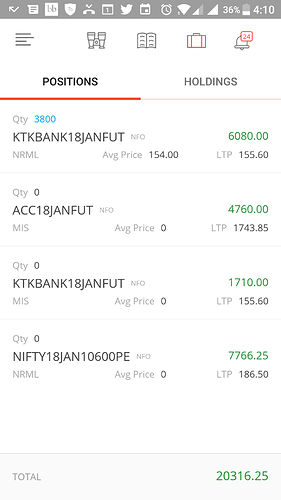 Good start of new year!
Good start??? Hahahahahah
It's a Damm Very Good Start


Keep it up

Ha ha ha… Thank you @Lets_Invest

Any idea why nifty is falling daily exactly at 13:45 candles
What is the strategy for nifty pe positions that took on last friday? Can u share?
Frankly speaking, I don't know much about technical analysis (I have recently started learning it). I was convinced with the fact that before crossing 10600 level nifty will correct/consolidate, hence took this PE position. I was prepared to book losses if the trade didn't materialize in 2 weeks.
I am not sure if this is what you were hoping to get as an answer, but some how these hunches work for me(though not all the time).
You Should have made a good profit's on Straddle for violent moves

i did short straddle

i did short straddle one more time at 2.20 , and lost eveything and went into loss

Bankbaroda I suppose is in demand zone. Good for Call or short-term investment.
Just wanted to share
Ohhhh, Got it.
It's okay, better luck next time

Not sure of demand zone at this levels but still BOB is bound southward till 150 or possibly near 140
lets c…