Want to get your views for RCOM over next 4 weeks.
Aren't there any better stocks you could find?
Would appreciate your views on th stock rather on my choice. Thanks in advance
It may go down or consolidate, but chances of getting appreciation is very low IMO. Recent developments are not in favor of RCOM.
Not considering RCOM's fundamentals , based on chart observations but not a recommendation , Rcom is in a downward trending channel , nearest upper level and also a pivot level is 24 and below 20 level Rcom will dropdown quickly to lower than, level of 12.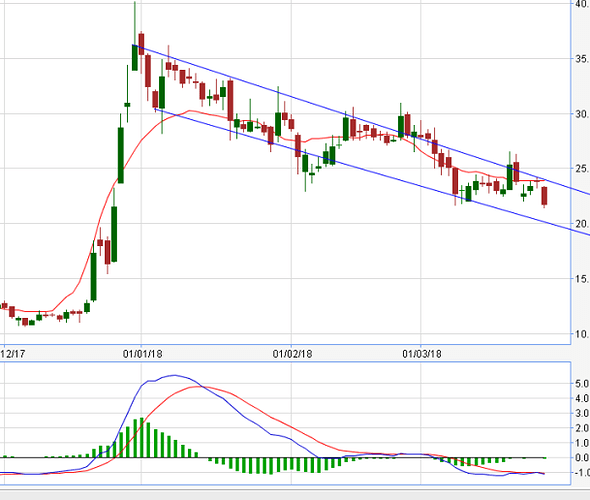 It is not good stock to buy and hold. But at any point of time you can take out 2-3 thousand daily from it. Its good for Intraday.
At least 10000 Qty. Even 20 paisa surge will give Rs. 2000.
RCOM has been in decline since 2008 crash, It never recovered.
Earnings have not shown any promise.
Very poor performance.
Why even look at this poor stock when there are so many strong performers.
There is reason why this stock is going down consistently YOY.
We can not reply on RCOM for long terms. It can be dangerous. But for intraday positions, it can prove itself fruitful.
After Supreme Court ruling allowing to go ahead with asset sale, what is the max this stock can go?
Either do intraday or keep long term. Dont think 4 weeks, 2 months and all, u will mostly be trapped.
In long term also, either it will become 10X (share price around 200) or it will become 1/2X (will reduce to half). So if you can take risk with such a stock, u can put money in it.
Dont get mesmerised by such news, these people will keep on doing court meetings, then delaying it, then NCLT will defer the meeting and blah blah.
Your 4 weeks investment will become 4 months in no time.
Thats why it is not a positional stock, it is either long term or intraday, that too very risky but can be high reward.
Today RCOM drop downed below 12 !!!
What. A. Call.





Rcom is good for intraday.I made profit on it today.
200% Profit today

News based stk price movement. Unpredictable.
Find some other stk

Analysis of stocks which are in unfavorable sector , some times makes analysis in to a 'catch 22 " situation my another stock analysis . View on BHARTI AIRTEL ? April Month