In our quest to make investing easy & more accessible for our investors, Quantum has decided to change the face value of Quantum Gold Fund from Rs 100/- to Rs 2/. Accordingly, each unit will approximately represent 1/100th of 1 gram of gold effective December 17, 2021 instead of ½ gram per unit.
This change will not impact your existing investment in Quantum Gold Fund but will only reflect in the proportionate increase in number of units you hold under the fund. Thereby keeping your investment value same as before.
As with every corporate action, the trading price will adjust one day prior to the record date i.e on 16th December and start reflecting unit price representing 0.01 gram of gold. This is because the settlement of units traded on 16th December happens on 20th December which is post the record date and hence trading price adjust's a day earlier.
So, why did we change the face value?
To make investing in the Quantum Gold Fund more accesible!
when we launched the Quantum Gold ETF in 2008, it was the lowest denomination Gold ETF in the Indian markets. Over time, with increase in gold prices the per unit investment in Gold ETF had increased substantially. Thereby to again reflect the accessibility, we are lowering the pegged denomination to 0.01 grams, making it one of the lowest denominated Gold ETFs and improving accessibility for investors.
Since earlier, each unit of Quantum Gold Fund represented 0.5 grams of gold, the face value of the fund was Rs. 100 & the NAV of the fund had crossed over Rs. 2000/-, owing to the rising gold prices. It means the minimum investment of the fund was more than Rs. 2000/-, making the fund less accessible for a retail investor.
With the change in the face value from Rs. 100 to Rs. 2 investors can now invest in the fund with low denomination. Each unit of Quantum Gold Fund will now represent 1/100th of 1 gram of gold.
| | Existing structure | New structure |
| --- | --- | --- |
| | | (Record Date December 17, 2021) |
| Face Value | Rs.100/- | Rs. 2/- |
| Each unit represents | 0.5 grams of gold | 0.01 grams of gold |
When is the face value changing?
The record date of the new face value is December 17th. The balance unit holding in your investment will increase proportionately. However, as mentioned above, the current value of your holdings will not have any impact.
This change will make your incremental gold investing that much more accessible. You still get the same wholesale pricing even when you buy 0.01 grams of gold. This will make buying, rebalancing you portfolio that much more efficient. Investors should consider this as an opportunity to add to your gold investments and ensure your portfolio is well-diversified, with at least 20% allocation towards the yellow metal.
Read our Addendum to know more click here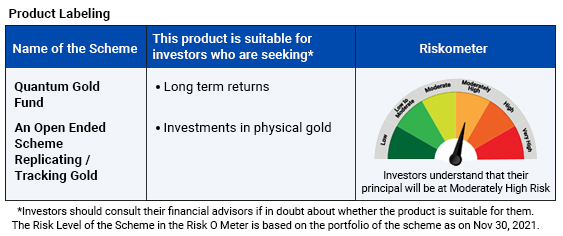 Mutual Fund investments are subject to market risks, read all scheme related documents carefully.