stoploss is a must and should. make notes of entry and ecit also
Trading journals main purpose is that to identify what goes right and wrong in our trades so that we can learn, improve ourselves. So a trading journals important requirement is that the reason why we taken a particular trade, what happens after taking a trade before the exit (in loss or profits).
Definitely there must be other items like entry price, profit price, stop loss price, underlying price while we take entry incase if we trade in derivatives.
My trading journals consists some other items like whether the entry was at resistance or support , the trend side taken based on whether major/medium/short trend etc.
I prefer trading journal in computer rather than on paper because after few months if i want to verify something, i can just use search option in computer and this won't be possible incase of paper journal.
Thought I'd mention TradeBench (www.tradebench.com) - a free webapp for desktop browsers and tablets that my team and I created for planning (incl. money management) and journaling trades. We think it has all the columns you need in a trading journal, i.e. reason for entry, why you moved your stop order, review after a trade, possiblity to paste chart screenshots directly into your journal, etc.
Feel free to have a look and see if it fits your needs.
Best regards,
Rasmus, Founder and CEO of TradeBench
You must at least track the following:
Entry Price
Exit Price
Date and Time
target
Stop Losses
Reason why you took the trade
Strategy
Mistakes
Commissions
Charts
Here is a picture of what those data points should look like in a journal: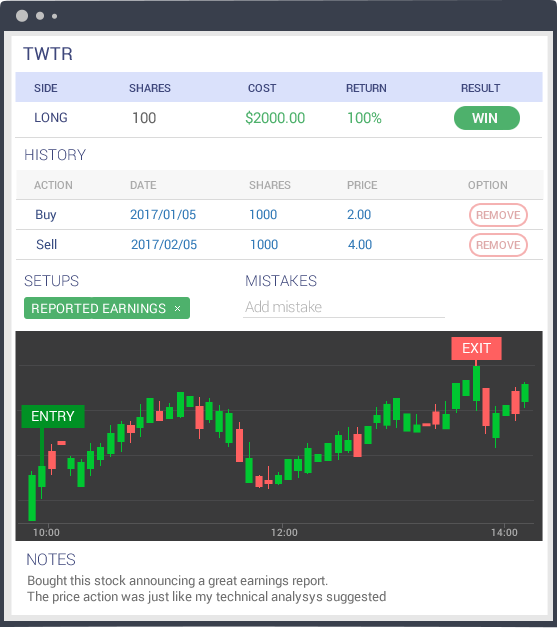 Here is a sample trading journal: http://demo.tradersync.com/
You can try using AnaStrat !
Think about trade analytics or trading journal, and I'm sure we'll serve everything under it. You can start with a 30 day free trial. You get money management, analytics, insights and journaling. Have a look!
Log in with kite, upload your tradebook and there you go!
We're working on a seamless way to fetch your trades automatically. Shall update on it soon!
These tactics wont work here. You are better off promoting your product by being a genuine contributing member.
Shouldn't put the link in quote …