One industry outside fintech that we have all been tracking actively is health. (Thanks to the pandemic)
Peloton is probably the most valuable health & fitness business in the world. They bring fitness home with their cycles, treadmills, & online group classes. As you'd have guessed, Covid was a boom for the business. They grew really really fast, but as life in the US gets back to normal, the stock price has dropped by almost 70%. IPO at $29, went up to $160, back down to $50. The market cap at the peak was almost $60billion (Kotak Bank's marketcap) and is now down to $17 billion.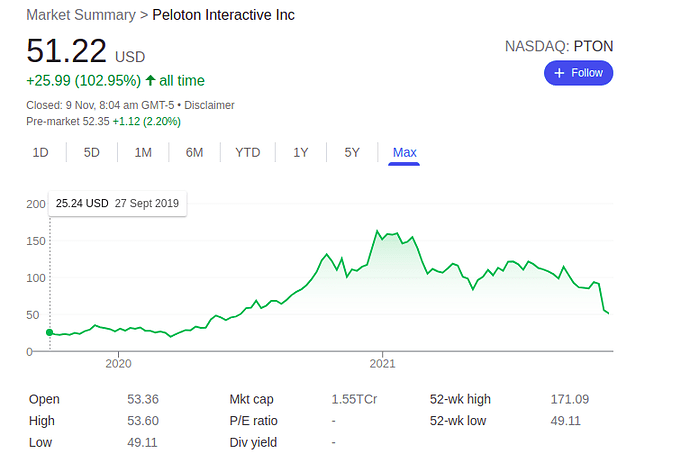 Please watch this very interesting video on their recent stock performance.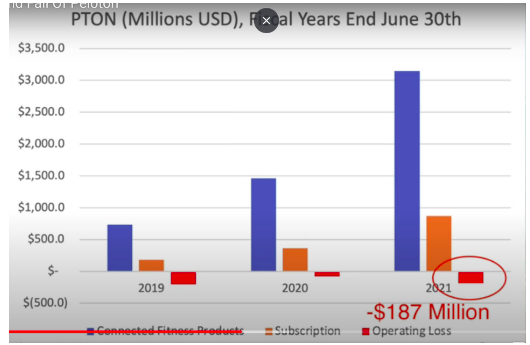 One interesting slide, check how the revenues have grown but also losses. This is because of their advertising costs. As the world started getting back to normal and people started going to gyms which meant lesser sales for Peloton, they increased their ad spending to get folks to subscribe to their service and buy their products. The strategy has failed miserably. They have gone bonkers now and reduced the price of their bikes by 40%, but without the sales picking up. They have put their entire business at risk due to this ad fuelled fake growth numbers to please share holders, where they lose money on every customer acquired even after selling a $1500 cycle. One of the best health and fitness brands in the world, stupid how the constant need to grow & mad money spent on advertising has put them on a brink of a disaster.
Also, do check this article out which talks about how stay at home stocks are falling like there is no tomorrow.
What are your views about the Work from home theme and its stocks? is it done and dusted? and what about the Back to office theme? is it roaring back big time?